Successful premiere at IFAT
S & P Consult GmbH draws positive conclusion after participating in the trade fair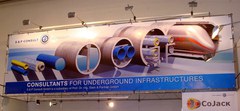 Dipl.-Ing. Robert Stein, managing partner of S & P Consult GmbH based in Bochum, considers their participation in IFAT 2008 a major success for his company; after the 15th International Trade Fair for Water, Sewage, Refuse and Recycling had closed its doors in Munich, Germany the week before last.
Not only did the products and services offered by S & P Consult meet positive response amongst the German visitors, but particularly among the international visitors of the trade fair. "We talked to visitors of 24 different nationalities, mainly form Latin America, the Middle East and Eastern Europe. Thus, with our appearance at the trade fair we have reached our expected target group by 100 %," infers authorized representative Dipl.-Ing. Albert Hille. According to this also S & P Consult were able to clearly feel the growth, which was noticed by the organizers of the trade fair, especially in the number of visitors from abroad.
Among the international visitors the product highlights CoJack, STATUS und UNITRACC, i.e. on-line monitoring of pipe jacking projects with CoJack, state-of-the-art asset management of water and sewage networks by utilizing the conceptual service framework STATUS, and the know-how and knowledge transfer by means of the web-portal UNITRACC as well as the rehabilitation planning of sewage systems, raised particular interest. This is why Robert Stein draws a downright positive conclusion: "Our premiere at the biggest IFAT of all times was a major success. We had the opportunity to speak to numerous visitors of our stand. To some extent we already had very specific and project-related conversations, which already at this point suggest a collaboration in the near future."
Further information and media contact:
S & P Consult GmbH
Ms. Tanja Herzberg
Konrad-Zuse-Str. 6
44801 Bochum
Germany
Tel: +49 (0)234 5167-123
Fax: +49 (0)234 5167-109
Email: tanja.Herzberg@stein.de
Internet: www.stein.de
Contact
S & P Consult GmbH
44801 Bochum
Phone:
++49 234 5167 0
Fax:
++49 234 5167 109
E-Mail:
office@stein.de
Internet:
To website