Stronger tools. Improved performance. Better choice.
Better tools, better job. Nowhere is this more evident, and more necessary, than in crushing asphalt aggregate, concrete, or both, and laying down new road beds. Tools that wear out before their time mean idle road milling machines, missed project schedules, and blown budgets. The new Road King series of redesigned road milling tools from Kennametal is that better tool that means better performance.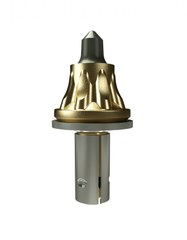 "Many factors lead to increased wear on tooling systems," says Thomas Chudowski, Senior Global Product Manager – Road Rehabilitation at Kennametal. Jobsite conditions (road material, temperature) force choices in cutting depth, machine advance speed, cooling system, holder system, and machine power -- some of which the operator can influence in a positive or negative way. "He can choose the type of tool, adjust machine speed and cutting depth, and of course, affect the degree of maintenance of his machine, including the cutting unit."
Job type has conventionally required a tool choice as well. A tool too small for the application or the machine doesn't last long, resulting in more downtime to change tools. A tool too big for a low-horsepower machine slows it down. The lifetime of the tool might be extended, but machine efficiency is unacceptable, particularly when paving immediately follows milling.
Contractors doing reclamation projects usually need a heavier tool body, where in road milling, a slimmer body improves machine performance. The new Road King series from Kennametal is a single tool system addressing both reclamation and milling road projects to the benefit of the contractor.
Road King feature improvements include:
A body design that accentuates easy penetration with less stress on the washer, retainer, and holding system.
A series of optimized tip designs (flat bottom as well as valve seat) for varying job conditions, along with a single body design that accommodates all of them, greatly simplifying inventory.
Increased body hardness on all tools to maximize wear resistance.
A fluted body design that supports better tool rotation behavior, improving tip wear.
The head design also leads cut material away from the tool, reducing the buildup of fines between retainer and shank.
An increased collar diameter maximizing holder protection.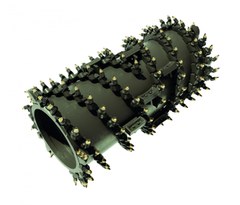 Added Expertise in Drum Designs and Holder Systems In addition, Kennametal provides unparalleled support with decades of experience designing and manufacturing complete cutter drum systems, covering not only road-milling drums, but also a complete line of conical tools, sleeves, and blocks in a range of configurations including weld-on blocks and patented quick-change systems requiring no welding and, in certain applications, no bolts.
Along with the latest tools, Kennametal emphasizes the importance of providing customized drum design services, which can be key to giving users the productivity they expect. With a wealth of proprietary drum-lacing programs, Kennametal engineers can tailor drums design to specific customer parameters, with such user-selectable design elements as cutting pattern, diameter, width, advance rate, and rpm. They then determine the total number of tools required, total cutting width, wrap angle per side, radial spacing, vane angle, and estimated kicker clearance. Drum configurations for a number of pavement conditions and road machine OEM specifications are also available.
"Performance is the heart of the new Road King," Chudowski adds, "and tests are showing notable improvements from this new design. In tough economic times, Road King is a tool that will stretch a contractor's budget dollars further while delivering higher milling performance."
More information is avaible at www.kennametal.com.
Contact
Kennametal Inc.
Kathy Linden
1600 Technology Way
15650-0231 Latrobe, PA
United States
Phone:
+1 724 539 5698
Fax:
+1 724 539 6766
E-Mail:
kathy.linden@kennametal.com
Internet:
To website