Strategic Rehabilitation Planning for the Drainage Network in Saarbrücken, Germany
Saarbrücken, the capital of the federal state Saarland in Germany, commissioned the engineering company Stein und Partner (S & P Consult GmbH) to carry out the structural assessment, network aging analysis and development of rehabilitation and maintenance strategies including analysis and optimization for the sewer system with a total length of 1000 km.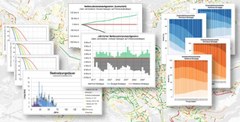 The basis for this project was provided by Stein & Partner's stochastic aging model "STATUS" for pipeline infrastructures. This system analyses the existing, individual aging behaviour of a network. Based on this analysis and taking into account the maintenance decisions of the utility from the past, present and future (modelled in different utility specific strategies), STATUS predicts the condition and system state (fabric decay) change at an object level at the present time (forecast today) and for the future.
The prognosis of changes of condition and fabric decay until the end of service life (determined as probability of failure of the object beyond the previously defined risk limit) allows a state-of-the-art prediction of the remaining service life of each object. Default risks can thus be identified and the budget allocation of the rehabilitation and investment plans can be optimised regarding their timing and necessity depending on the remaining fabric decay reserve (asset erosion reserve).
With this knowledge and incorporation of the strategic objectives of the utility, the technical and economical as well as financial consequences of rehabilitation measures can be simulated and possible alternatives compared. Based on this strategy, simulations optimized solutions can be developed to achieve these customer specific goals.
The targeting strategy was developed in close cooperation with the city of Saarbrücken and included:
Optimization and stabilization/consolidation of financial needs, wastewater fees and reveneus

Optimization and stabilization of the rehabilitation length and volume

Determination of future rehabilitation and investment needs as planning tool

Determination of future human resources according to rehabilitation needs

Impact assessment of the planned maintenance regarding fees, rehabilitation lengths (including possible side effects to infrastructure nearby such as traffic or water supply) and resulting future financial needs

Improving the information base for external consultants and auditors

Improving the communication between technical and financial management

Improving transparency of the utility to their respective customers
With these results, Saarbrücken is capable to sustainably upgrade their actions in the operation, maintenance and rehabilitation of their sewer systems and to generate an asset profit value of over 80 Mill. € by avoiding asset losses in the coming 20 years. Because of that, the city of Saarbrücken continues to be a beacon for the stability of fees, the preservation of asset value and secured public services in Germany.
Contact
S & P Consult GmbH
Konrad-Zuse-Str. 6
44801 Bochum
Germany
Phone:
+49 234 5167 - 0
Fax:
+49 234 5167 - 109
E-Mail:
office@stein.de
Internet:
To website