STRABAG successfully completes Niagara Tunnel Project
Apr 19, 2013
Tunnel boring machine
After more than seven years of construction, the Niagara Tunnel Project has now been put into operation. In the presence of representatives from client Ontario Power Generation, local construction consultants Hatch Mott MacDonald/Hatch Acres and Austrian construction group STRABAG, the tunnel's outlet gate was opened to allow the flow of water through the 10.1 km water supply tunnel near the famous waterfalls on the Niagara River.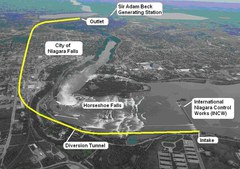 The € 900 million project of the century will be regarded as complete following an unhindered 24-hour flow.
"Thanks to the years of commitment by the STRABAG team, the project could be concluded as both a technical and financial success months before the contractual deadline," said STRABAG SE CEO Hans Peter Haselsteiner, congratulating the team.
In the coming months, the site installations will be dismantled, the area revegetated and temporary offices disassembled.
The Niagara Tunnel Project was awarded to STRABAG in the summer of 2005; tunnelling works using a tunnel boring machine (TBM) began on schedule in September 2006. After just a short distance, extremely difficult geological conditions prevented standard tunnelling with the largest hard rock TBM in the world. Special technical measures, alterations to the TBM and innovative solutions had to be found to continue work on the 14.4 m diameter tunnel.
Contact
STRABAG SE
Diana Neumüller-Klein
Donau-City-Straße 9
1200 Vienna
Austria
Phone:
+43 1 22 422-1116
Fax:
+43 1 22 422-1177
E-Mail:
diana.klein@strabag.com
Internet:
To website