STRABAG subsidiary Ed. Züblin extends sewer network in Singapore for € 85 million
The pipe jacking division of Ed. Züblin AG, a subsidiary of construction group STRABAG, has been hired by the Land Transport Authority of Singapore to expand the city's sewer network.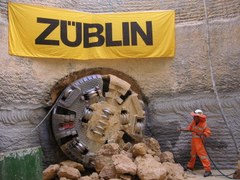 The € 85 million (SGD 132 million) contract is divided into two lots:The first lot of the contract (T3003) to reroute the existing municipal sewer lines and to further expand the canalisation comprises the construction of 57 shafts and one sewer pipe with a length of 5.6 km within a project schedule of 27 months. All prefabricated elements, like pipes and rings of tubbings, will be produced and delivered by the Züblin-owned factory in Malaysia. This ensures prefabricated elements of high quality.
The second lot of the contract (T3005) involves, among others, the preparatory works for the construction of the Singapore metro and the further extension of the sewer network. Here Züblin will build the necessary 55 shafts and a sewer pipe with a length of 4.2 km within a period of 25 months.
The pipe jacking method – also called dynamic ramming technique – will be employed in both lots. With this method, concrete or steel pipes may be laid non-disruptively. It is especially suited for installations with relatively small diameters. This project involves diameters between 30 cm and 3,100 cm.