StormwateRx Introduces Purus Nitrate for Stormwater Treatment
Purus Nitrate removes soluble nitrite and nitrate from industrial stormwater runoff, protecting waterways from these pollutants and helping industrial customers meet mandatory environmental benchmarks.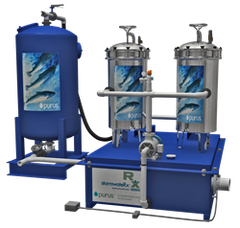 StormwateRx LLC, a stormwater treatment and filtration company based in Portland, Oregon, announced the development and release of a new product in its line of Purus advanced polishers, Purus Nitrate. Purus Nitrate removes soluble nitrite and nitrate from industrial stormwater runoff to protect waterways from pollutants.
Purus Nitrate targets soluble nitrate in industrial stormwater runoff. This system is ideal for industries where nitrogen compounds or petroleum products are used or where organic materials are processed, including, but not limited to fabricated metal products, food processing and chemical manufacturing.
Purus Nitrate is normally installed and flow-matched in a "treatment train" configuration with StormwateRx's Aquip stormwater filtration technology, an upstream pre-filtration system. The typical removal efficiency of this technology falls in the range of 80 to 90 percent — usually to below the required numeric action levels (NALs) or benchmarks.
Purus Nitrate has a dissolved nitrate capacity exceeding 40 pounds (as nitrogen) for a typical 100 to 300 gallon-per-minute treatment flow rate. Slipstream treatment configurations are available to extend run-time when less nitrate needs to be removed from the stormwater.
About StormwateRx:
StormwateRx LLC designs, manufactures, installs and maintains stormwater treatment systems for industrial customers throughout North America. Contact StormwateRx to find out how they can help you meet your stormwater quality requirements.