Stopper Specialists launch new Tool Box videos
Stopper Specialists, a division of Groundforce, has introduced Tool Box Videos - a new online training resource to further support its growing customer base.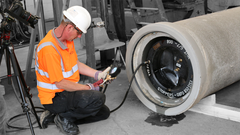 The new videos, which are designed to be used in conjunction with the current user guides, are available to view via the Stopper Specialists' website www.stopperspecialists.co.uk and from our YouTube channel. They provide visual guidance on installation procedures for Air Test, Cylindrical Blank & Bypass Stoppers, as well as the latest new product - Cone Sealing Bags.
John Wilson, Director of Stopper Specialists, said: "We decided to create these visual aids to complement our in-depth user guides, following discussions with both the end users and various concrete pipe manufacturers, to highlight some of the basic requirements needed to carry out safe and successful installations."
The videos, which will offer both practical and safe solution advice, are in addition to support provided by the Stopper Specialists' team, who are always available to discuss any concerns customers may have regarding installation or correct usage on its wide range of pipe testing and flow control ranges of equipment.
Contact
Groundforce
Otley Road
HG3 1UD North Yorkshire
United Kingdom
Phone:
+44 0800 000 345
Fax:
+44 0845 600 8800
Internet:
To website