Stein & Partner goes 'down under'
Presentation of asset management models and exhibition stand on the No-Dig Down Under 2006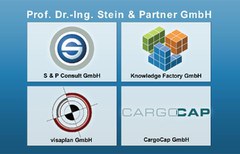 Prof. Dr.-Ing. Stein & Partner GmbH (S & P), engineering consultants in the field of underground infrastructure and environmental technology from Bochum, Germany, will attend the 24
th
International NO-DIG 2006 Conference and Exhibition taking place in Brisbane, Australia from 29 October to 2 November 2006. The company intends to contribute to the exhibition with a presentation of its latest developments on a stand at the German Pavilion and with two lectures on asset management and maintenance held by its managing director Dipl.-Ing. Robert Stein during the conference.
The first lecture by Robert Stein will be part of the Condition Assessment Workshop on 29 October dealing with the "Analysis of the long-term Effects of Maintenance Strategies" by means of STATUS Sewer, a prediction-based model developed by S & P. STATUS can be considered a holistic approach that is able to predict the development of a particular network under different management strategies giving decision support to the network operators. Solid mathematics allow the long-term planning of almost every single key factor of a utility such as budgets, service levels, tariffs, costs and serviceability – a topic Robert Stein's second lecture "Condition Assessment and Failure Analysis of Sewers and Mains using Fuzzy-Logic", given on 30 October, will deal with in depth.
Asset management benefits from the mathematical concept of fuzzy-logic in the sense that it improves the assessment of single sewers and the network by considering a higher degree of differentiation.
Besides the model STATUS Sewer another model called
CoJack
, also developed by S & P, will be presented at the company's stand at the German Pavilion.
CoJack
is a new efficient structural calculation- and controlling method for pipe jackings. Furthermore, it offers a maximum of safety without additional metrological effort.
Another highlight on the S & P exhibition stand will be the presentation of UNITRACC, the repeatedly awarded web-based platform for information, learning and working in the sector of sewer and pipeline construction. After winning the No-Dig-Award on the 23
rd
International NO-DIG Conference in Rotterdam in 2005 and an extremely successful launch of the international version on the No-Dig Show in Nashville in March this year, an independent operating company with the name "Knowledge Factory GmbH" was founded in order to meet the growing importance of UNITRACC within the company Prof. Dr.-Ing. Stein & Partner GmbH. Robert Stein is the managing director of the company.
The S & P exhibition stand can be found in area G1 at the German Pavilion.
For further information please visit
www.unitracc.com
and
www.stein.de
.
Press and media contact:
Prof. Dr.-Ing. Stein & Partner GmbH
Mrs Julia Geessink
Konrad-Zuse-Str. 6
44801 Bochum (Germany)
Tel: +49 (0)234 51 67 125
Fax: +49 (0)2324 51 67 109
Email: Julia.Geessink@stein.de
Web: www.stein.de
Contact
Prof. Dr.-Ing. Stein & Partner GmbH
44801 Bochum
Phone:
+49 234 51 67 0
Fax:
+49 234 51 67 109
E-Mail:
office@stein.de
Internet:
To website