Spiral-Wound and CIPP Technologies for water, gas and wastewater pipelines
SEKISUI SPR in Europe at No-Dig Live 2014 in England
SEKISUI SPR in Europe presents itself with a comprehensive product and service portfolio at the 12th No-Dig LIVE at Peterborough Arena in East England from 16-18 September 2014. At booth 84 SEKISUI SPR will exhibit reliable and new technologies for water, wastewater and gas pipe rehabilitation which offers an environmentally-friendly and cost-effective alternative to conventional pipeline construction.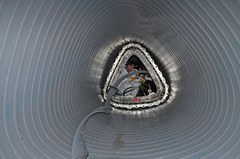 At this year's No-Dig Live in Peterborough, East England, the sales division SPR TEC Europe of SEKISUI SPR will be presenting the state-of-the-art technologies and a broad service portfolio for maintaining the European underground infrastructure at booth 84 from 16-18 September 2014. The technologies are characterised by very short construction times, lower costs and less strain on local residents and the environment compared to conventional pipeline construction. The focus is on the Spiral-Wound pipe and Cured-in-Place-Pipe systems for the rehabilitation of potable water, water, sewer as well as gas pipes:
Spiral-Wound pipe: SPR™, SPR™ EX, SPR™ PE, SPR™ RO
Cured-in-Place-Pipe: NORDIPIPE, TUBETEX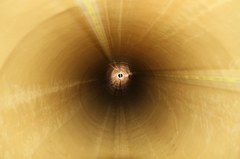 Sewer or service water pipelines with diameters of 150 to 5500 mm and circular or non-circular shapes can be rehabilitated with four different Spiral-Wound lining systems. The technologies are based on the principle of winding a continuous plastic strip to a liner directly into the deteriorated pipe. The plastic strip is spirally wound via a patented winding machine positioned in the base of an existing manhole or access chamber. The edges of the strip interlock and form a continuous watertight liner inside the host pipe.
NORDIPIPE was developed for the trenchless rehabilitation of drinking water and service pipes up to 1400 mm diameter. The fibreglass-reinforced liner is designed as fully structural solution and can resist internal pressure up to 25 bar. The seamlessly woven polyester liner TUBETEX represents an adhesive inner lining of the existing drinking water pipe with diameters of 100 to 1200 mm. It provides sealing, corrosion protection and increases the hydraulic capabilities after installation. Using the Hytrel™ coating TUBETEX is also a solution for gas pipes in need of rehabilitation.
Contact
SEKISUI SPR Group
Lena Zemke
Julius-Müller-Str. 6
32816 Schieder-Schwalenberg
Germany
Phone:
+ 49 (0) 162 / 1050 786
E-Mail:
press@sekisuispr.com
Internet:
To website