Specialist Construction Company wins prestigious award
Trenchless Technologies cc took top honours at the 2010 Construction Summit awards ceremony for outstanding performance in South Africa's construction industry held in Johannesburg.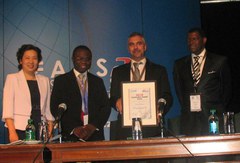 The CIDB (Construction Industry Development Board) and CIOB (Chartered Institute of Building) selected Trenchless Technologies as the category winner out of approximately 1871 contractors with a CIDB grading of 6 & 7. This category award recognises South African companies applying innovative technologies with a positive impact on social infrastructure development.
"Our focus is to remain on the cutting edge of new pipe laying techniques, and to offer cost effect No-Dig solutions", said Sam Efrat, Managing Member, of Trenchless Technologies.
The company rehabilitates old water and sewer pipes by using techniques such as sliplining, pipe bursting, and other close-fit lining methods. New pipes are installed using horizontal boring, pipe ramming and directional drilling.
"Directional drilling has been used to install piping under railway lines and roadways providing bulk water supply to many rural areas. To date we have completed 240km of trenchless pipelaying work throughout South Africa", said Efrat.
The company is currently involved in a challenging project with Umjindi Municipality (Barberton). The town's aging and leaking water pipes are being replaced by using pipe-bursting methods to install new HDPE pipes.
"Not only is this method efficient and cost effective, but it also requires a high degree of labour which contributes to the development, training and employment of the local community," remarked Efrat.
The 2010 Construction Summit was attended by 580 delegates and Invited speakers and panellists included the Hon. Trevor Manuel (Minister of National Planning), Hon. Geoffrey Doidge (Minister of Public Works), Hon. Jeremy Cronin (Deputy Minister of Transport), Hon. Ibrahim Patel (Minister Economic Development), Cecil Rose (Deputy chairperson of CIDB) and Michael Brown (Deputy CE of CIOB)
Other category winners were Group Five, Murray & Roberts, NMC, and Italian based company CMC.
Contact:
Trenchless Technologies
Sam Efrat
PH.: 083 212 4 888
E-Mail: sam@trenchless.co.za
Internet: www.trenchless.co.za