Spartan Tool introduces Model 740 Hybrid Hydro-Jetter
Spartan Tool LLC, a leading manufacturer of professional sewer and drain cleaning equipment, has developed the Model 740 Hydro-Jetter, the industry's first Hybrid Fuel Hydro-Jetter.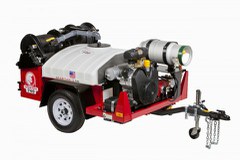 The Model 740 features a full 4,000 PSI of jetting power at a 12 GPM flow on a wide track chassis towable by any vehicle in a typical drain cleaning fleet. The Model 740 is available in either a traditional gasoline powered configuration or in a hybrid version that runs exclusively on Liquid Propane fuel. Cleaner and cheaper to operate, the LP version of the 740 produces a full 4,000 PSI of jetting power wherever needed, even inside food processing plants and other air quality conscious locales.
For areas that are subject to ozone action days, the 740 Hybrid allows the professional drain cleaner to use the jetter on days when previously this would not be possible. The Spartan Model 740 includes 350 feet of hose and plenty of pulling power from its 40 HP electric start engine, and provides operational flexibility that is a first for the drain cleaning industry.
Contact
Spartan Tool LLC
Jim Jenkins
1506 West Division St.
61342 Mendota, IL
United States
Phone:
(+1) 800-435-3666
Fax:
(+1) 888-876-2371
E-Mail:
jjenkins@spartantool.com
Internet:
To website