Solar water supply in Pakistan
The solar company Phaesun GmbH from Memmingen has installed 200 solar water pumping systems in 12 districts in Pakistan. The latest systems were successfully put into operation together with the Pakistani partner Izhar Energy by December 2012 in the district of Sukkur.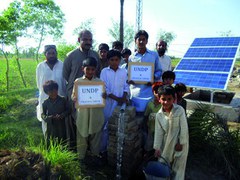 The project has been initiated and financed by the United Nations Development Programme UNDP to counteract the destructive tidal flood in Pakistan in the summer of 2010. Thousands of families will benefit from the project that secures the water supply for drinking water, irrigation and livestock farming.
The people in Pakistan still suffer from the devastating consequences of the flood disaster in 2010: Thousands of people lost their lives, 6 million people urgently needed humanitarian aid, the infrastructure was severly damaged in many parts of the country. Even the water supply was disastrous in many places. Clean drinking water was often only available after having covered long distances. Organised water supply for agriculture and livestock farming was often not existent in many places.
The UNDP-project aims at a sustainable water supply for local communities by means of renewable energies. In twelve districts of Pakistan, local communities have been identified where the water supply was almost completely disrupted.
The 200 solar water pumping systems have been individually sized according to the needs on site such as water amount and pumping head and were installed from November 2011 until December 2012. The systems use pumps of the manufacturer Grundfos which are operated with solar modules between 400 and 700 watts.
Russom Semere, managing engineer at Phaesun reports: "It was an enormous logistical effort to realise that project. The infrastructure in many regions of Pakistan has not yet been rebuilt. The components often had to be taken to their point of destination with the help of donkey carts and boats. The project could be realised in the first place due to the cooperation with the local partner Izhar Energy and the UNDP members on the spot!"
The project has a sustainable effect on the development of the affected regions.
"The local communities are enthusiastic and grateful", Faiz Butta, managing director of the Pakistani solar company Izhar Energy reports. "They are now responsible for the operation of the pumps. During the time of installation, we carried out detailed training courses for the local community authorities. When we visited systems we had already installed the year before, I could convince myself that they have been perfectly maintained and serviced. The responsible authorities are aware of the fact that the economic development of their communities depends on the water supply of agriculture and livestock farming."
The UNDP initiated and financed the project, Phaesun sized the systems, prepared and supplied the components. The logistics and installation on site was organised together with the local partner Izhar Energy.