Slurry pumps handle abrasive iron ore slurry
At an iron ore outloading site in Australia, seasonal torrential downpours led to a tremendous volume of abrasive slurry that could not be handled in an effective manner by existing cantilever pumps. To resolve this situation, ITT Flygt unit provided the mining company with a complete solution built around its slurry pumps that finally solved a 30-year old problem.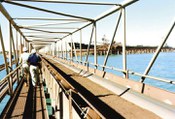 BHP Billiton is one of the world's largest diversified resources companies. Headquartered in Melbourne, Australia, it has an industry leading position in the aluminum, iron ore, copper, energy coal and metallurgical coal businesses. One of its facilities is the iron ore outload site in Port Hedland in the Pilbara region of Western Australia – a region where cyclones regularly visit the coastal plains between November and April with torrential downpours.
Abrasive slurry causing pump breakdowns
When loading minerals on bulk carriers it is inevitable that lump falls from the conveyer belt. These lumps, mixed with massive amounts of water from downpours, forms a very abrasive slurry that is collected in the site's pump sumps for further handling.
Over a 30-year period, the pumps on site – mostly of the old style cantilever models – had regular breakdowns due to mineral fines and solids build-up, causing pump wear, high maintenance costs and unreliable slurry handling. The pump breakdowns not only contributed to high costs due to repair and downtime, but also in getting the "left over" sucked up and removed by an independent contractor.
Due to these issues, BHP Billiton began to look for new equipment that could solve their problems with slurry accumulation, regular pump breakdowns and high maintenance costs. The worst and toughest problem at the outloading site were in the sumps located right next to the outload wharf where massive bulk carriers come in to be loaded with ore and where spillage is considered an environmental issue.
Flygt offers complete solution
BHP Billiton had employed ITT Flygt pumps in different processes so they turned to ITT Flygt in Australia with a request to provide them with pumps. However, ITT Flygt made it a challenge not only to replace the old cantilever slurry pumps but also to come up with a complete solution comprising sump design, pumping, agitation and sump cleaning. This meant using existing Flygt equipment as well as new innovative ideas on how to agitate and remove heavy iron ore slurries from the sumps.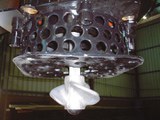 An analysis of the problem indicated that larger than normal sumps were required. This was not only to collect run off from washdowns and rain, but also to be a storage facility when the inevitable downpour occurs during cyclone season. Each pump was to have a different duty but standardization was crucial due to the interchangeability requirements of on-site maintenance staff. Another priority was sump cleaning and the prevention of fines and solids buildup. For this tough application, ITT Flygt specified the submersible HP 5540 high chrome abrasion-resistant slurry pump. For this purpose, the pump was fitted with a bottom mounted, high chrome agitator. To guarantee good service life and effective agitation for a longer than normal period, a special coating (HVOF) was applied to the propeller and shaft.

The pump sumps were designed according to the new ITT Flygt TOP concept, i.e. with a sloping floor that increases turbulence, keeping solids in suspension, thus preventing the build-up of sediment. The top section of the sumps was equipped with inlet screens with 15 mm apertures to enable the pumps to effectively remove lumps that sometimes get washed into the sumps along with fines and liquids. The screens are removable for ease of cleaning and access if necessary. Each of the three pumps stations was delivered in a packaged form, consisting of two sections of concrete with the discharge connections, guide bar, chain hooks, lid and screen already in place. It was then a simple matter of installing the rest: pump, guide rail, internal discharge pipework and control gear.
By working closely with the customer and by letting ITT Flygt supply not only replacement pumps but also a complete solution, BHP Billiton´s demands on an effective and environmentally safe iron ore slurry handling could be met. The following crucial demands stressed by the client were fulfilled:
Submersible technology
Self-cleaning sumps
Effective slurry removal
Safe working environment
Reliable operation
Low maintenance costs
Low power consumption
Interchangeability
Good backup service
ITT Flygt's slurry pumps have been designed specifically to handle the most abrasive slurries in a wide spectrum of tough industrial environments, from mining and mineral processing to the power generation and steel sectors. The HP 5540 pumps supplied for this application included hydraulic parts in high chrome material, a capacity of 75 l/s (1190 US gpm), and a 13,5 Kw (18 hp) motor.