Signing of Japanese ODA Loan Agreement with the Government of India
The Japan International Cooperation Agency (JICA) signed a Japanese ODA loan agreement with the Government of India to provide a loan of up to 28.975 billion yen for assistance for Delhi Water Supply Improvement Project.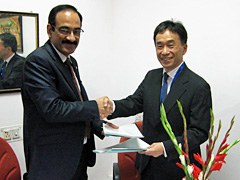 Under the project, the water supply facilities including service network to customers will be improved in the National Capital Territory of Delhi, India. The Project will contribute to achieving the equitable and continuous water distribution in the National Capital Territory of Delhi, thereby contributing to upgrading citizen's living standard. The Loan funds will be allocated to reconstruction and replacement of the existing water supply facilities, strengthening of Geographical Information System (GIS) on water supply facilities, and consulting services.
The current population of the National Capital Territory of Delhi is about 17 million and 149 Japanese companies have operations as of October 2011. However, due to high rate of water leakage, water supply in Delhi is 3 hours per day in average. Old water supply facilities and its inadequate operation and maintenance are contributory factors increasing the rate of water leakage. In addition, equitable water supply is not achieved in each water treatment plant (WTP) command area, because WTP command areas are not designed based on the WTP production capacity. Considering the increase in water demand associated with foreseen population growth and economic development, water supply situation will become more severe in the future.
Under the circumstances, JICA has assisted since 2009 drawing up "Master Plan for Improvement of Water Supply System in Delhi", to achieve the equitable and continuous water distribution with a target year of 2021. The Project is designed as the top priority project because the Chandrawal WTP command area covered by the Project is administrative core areas of the National Capital Territory of Delhi and water supply facilities are the oldest. In addition to the Japanese ODA loan assistance for the facilities, JICA will conduct technical cooperation for the enhancement of institutional capacity for operation and maintenance through the strengthening of GIS on water supply facilities by utilizing knowledge of Japanese local governments.
For its overseas development assistance to India, JICA, in providing assistance along with the Twelfth Five Year Plan (fiscal years 2012-2017), is coordinating Japanese ODA loan assistance and Technical Cooperation to continue to work dynamically for economic growth and inclusively for poverty reduction in India.
Contact
Japan International Cooperation Agency (JICA)
10-5 Ichigaya Honmuracho
162-8433 Tokyo
Japan
Phone:
+81 (03) 3269-2911
Fax:
+81 (03) 3269-5044
Internet:
To website