Siemens Water Technologies focuses on innovations for water reuse and wastewater treatment
"Water reuse is on the rise as global demand for the world's fresh water supplies increases. By recycling and reusing treated wastewater, communities and industries can save on the costs of clean water, ensure adequate supplies, and help to preserve a diminishing natural resource," stated Chuck Gordon, Executive Vice President of Siemens Water Technologies, at a breakfast meeting with water trade editors during the 79th annual Water Environment Federation WEFTEC conference in Dallas on October 24.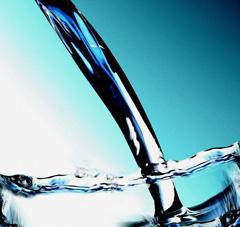 The increase in water reuse has been driven largely by innovative treatment technologies that are both cost effective and reliable in removing harmful bacteria and pathogens. "Siemens is in prime position in the US and globally to capitalize on the investments in new technologies — particularly wastewater reuse and recycle," explained Gordon.
Siemens Water Technologies has seen a steady increase in the demand for its water reuse technologies, especially its Memcor membrane products. Siemens estimates demand for new water technologies will double the size of the wastewater reuse and recycle industry, estimated at $40 billion, in the next 8 to 10 years.
"In addition to entering strategic technology partnerships, the company is seeing technical advancements in integrated biological systems, in which we combine biological treatment with membranes systems, plus controls." With our biological treatment technology toolkit and technical expertise, we are able to customize solutions to meet specific wastewater treatment goals — whether that is reuse, waste minimization or enhance nutrient removal, add Gordon.
Recently a customer in Oregon selected the company to expand and modernize its plant. As part of the upgrade, the plant will incorporate an integrated biological process that combines the Cannibal biosolids reduction process with a VLR (vertical loop reactor) system and Tow-Bro clarifier for high quality effluent and minimum sludge production. This advanced technology system will also help the plant produce clean water at the lowest possible energy and solids disposal costs — reducing power usage by 30%.
In the last 12 months, Siemens Water Technologies has expanded its global operation and made key technology partnerships to continue the expansion of its business into key international markets. "Through recent regional acquisitions in Italy and China and technology partnerships, Siemens Water Technologies continues to expand its regional global presence and technical capabilities to the municipal and industrial water market."
Gordon outlined the company's continuing plan to bring Siemens water technologies to global customers. "One of our strategies for growth is through regional acquisition." Recently the company finalized two acquisitions of CNC Water Technology Inc. of Bejing, China and Sernagiotto Technologies S.p.A near Milan. The CNC acquisition gives Siemens access to CNC's leadership in large water treatment and desalination projects in China. The Sernagiotto acquisition expands the company's dewatering and dryer technology offering and European manufacturing capability.
For further information:
Siemens Water Technologies
President and CEO
Dr. Roger Radke
Tel: +1 (800) 525-0658
Email: information.water@siemens.com
Web: www.siemens.com/water