Show How Sewers Work
Sewers are a front-line defense for public health and the environment, but they're hidden from sight. Even so, explaining their value and operation is essential to building public support and securing funding.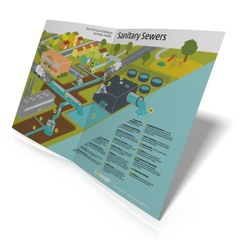 Understanding the complex network of pipes that snake underground isn't intuitive. Demystify wastewater collection systems with Envirosight's Anatomy of a Sanitary Sewer System poster!
Explaining the Unseen: Sanitary Sewer Systems
Envirosight's newest resource depicts the key components of a sanitary sewer system. It's perfect for educating ratepayers, training a new coworker or teaching kids about the industry you work in!
This resource is a roadmap to municipal sewer systems—from residential and industrial sites to pump stations and treatment facilities. A great visual aid for both novices and industry veterans, this poster illustrates how all the sanitary sewer system components fit together.