Short construction period and high level of safety
The large-scale sewage treatment plant Czajka, situated to the north-east of Warsaw, is scheduled to be finished in December 2010 – and this after only a two-year construction period. With a cleaning capacity of almost 450,000 cubic metres per day, designed for the equivalent of two million inhabitants, it will be the largest waste-water facility in Poland. Together with the Warbud construction company, PERI´s Polish engineers developed a cost-effective and comprehensive formwork and scaffolding concept which fulfilled all requirements regarding the best-possible concrete surfaces, short construction period and a high level of on-site safety.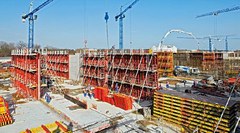 With its size and corresponding structural element dimensions, the Czajka plant has placed very high demands on site personnel and the formwork systems being used. On 600,000 square meters, which is equivalent to 80 football pitches, a total of 120 complex individual structures have been developed. Depending on the purification stage of the sewage plant facility, the tanks vary in both form and height. In spite of the tight construction schedule, PERI has been able to supply the required large quantities of materials to the construction site on time through close collaboration with Warbud without any problems. The small number of different individual components ensured that construction progress could be accelerated. As a result, around 50,000 square metres of straight walls and 30,000 square metres of circular wall surfaces have been efficiently constructed.
System combination for high walls
For forming the eight to eleven metre high reinforced concrete walls, with wall thicknesses between 20 and 75 centimeters, PERI wall formwork systems TRIO, VARIO and RUNDFLEX have been combined. Equipped with appropriate platform systems, these customised complete solutions offer maximum safety for the construction site team as well as fast shuttering times due to the formwork being moved as large-area complete lifting units from cycle to cycle. PERI UP reinforcement scaffold provide here an ideal addition for safe working conditions, and PERI UP stair towers guarantee optimal access to areas of operations.
Increase safety – reduce costs
For the straight wall sections, the TRIO Platform from PERI with regulationapproved working platforms and access ways on all required levels, have proved to be particularly advantageous. For this purpose, TRIO panel formwork with all stipulated working platforms, ladder access and guardrails was mounted to form complete liftable units. As pre-assembly takes place only once, construction site personnel save on any subsequent additional time and effort for modification work.
In addition, the contractor has been using PERI VARIO GT 24 girder wall formwork – likewise complete with a pre-assembled platform system. Here, too, all anchor positions and element connections can be reached without any risk and safe working areas are available for the concreting work. Similarly as with the TRIO Platform, the one-time only assembly at the beginning and the dismantling at the end also ensures enormous time savings with the VARIO formwork system. This means that the usual time-consuming handling of individual brackets and planking every time is no longer necessary.
A well-rounded solution
Construction of sewage treatment plants involves the forming of reinforced concrete walls with a range of different tank diameters. The PERI RUNDFLEX formwork elements used can be adjusted quickly and easily on site in order to match the required radius. The self-cleaning hexagonal thread of the spindles provides continuous fast adjustment. Through the extension splice, panels remain securely connected to each other even at heights of eight metres. Horizontal connections take place using the proven BFD alignment coupler from the TRIO product range. The BFD bridges infill areas of up to ten centimetres thick with only one connection part so that the number of individual components is reduced. This means that a time-consuming search for appropriate fixing devices is no longer necessary. The fact is that particularly with circular formwork systems, such internal and external longitudinal compensations are inevitable and this now results in considerable time savings for the construction crew.
Formwork and scaffolding from one source
PERI plans and supplies formwork and scaffolding from one single source. As a result, all systems can be optimally matched to each other and adapted to the construction progress. For this project, the contractor has been using PERI UP reinforcement scaffold. These scaffold units are extremely stable without requiring anchors and ballast and can therefore be moved without any additional assembly work. The use of lightweight aluminium staircase units extends the areas of application of the PERI UP Rosett modular scaffolding. In those places where walls already concreted prevent direct access to the working areas, PERI UP stair towers provide safe and convenient access for site personnel. In addition, the metric grid system of the PERI UP allows the installation of landing crossings with system decking and standard ledgers – thus avoiding the need of any time-consuming adjustments of tubes and couplers.
Environmental protection – a sector with a future
In Poland, more than 1,000 waste-water treatment plants must be built or modernised in order to fulfill European standards which take effect in 2015. With a price tag of over 500 million euros, Czajka is not only the largest sewage facility in the country, but it is also considered one of the most important environmental protection measures in Europe. The clients are the municipal water and sewage works of Warsaw, whilst project realization is the responsibility of an international consortium – Veolia Water System, Poland; Veolia subsidiary Krüger, Denmark; OTV, France; WTE Wassertechnik, Germany – under the supervision of the Warsaw building contractors, Warbud. As project completion has been carried out in two phases, this has ensured that daily operations have also continued during construction work.
Contact:
PERI GmbH: Schalung Gerüst Engineering
Postfach 12 64
89259 Weissenhorn
PH.: +49 (0)7309.950-0
FAX: +49 (0)7309.951-0
E-Mail: redaktion@peri.de
Internet: www.peri.de