Shea Concrete welcomes new addition to sales team
Bruce Blackledge Ready to Offer Strong Leadership and Experience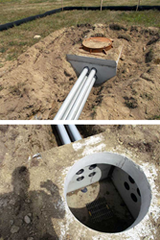 Shea Concrete Products added to its sales team with the hiring of Bruce Blackledge. The Massachusetts native will work out of the company's Rochester, MA plant and serve as Sales Manager of its precast concrete utility products.
"I believe in our people," said Blackledge. "We need to develop the strengths and support the weaknesses of our team. That's what leadership should be, in my opinion."
Blackledge served as President of the Northeast Precast Concrete Association (NEPCA) for five years and was later succeeded by current Shea Concrete Manager Greg Stratis, who held that position from 2006-2012. The two first met while serving on the NEPCA Board of Directors.
"Bruce shares the same common concerns and goals as Shea Concrete Products," Stratis said. "He fits in well with our company structure and understands what it takes to maintain customer satisfaction."
"I've known Greg for a long time," Blackledge said. "Knowing that Shea Concrete is a family-owned company is something I really value. We sat down over a cup of coffee and shared our philosophies. It was fun."
Blackledge's time as a sales manager at his previous employer primarily focused on its precast utility products, which makes his experience in that particular market a good fit for Shea Concrete. His experience in the precast concrete industry started over 35 years ago in 1978 when he was hired as a laborer for Rotondo Precast, Inc. By the time Rotondo was acquired in the early 1990s, he earned himself a position on the inside sales team.
Shea Concrete's current Rochester plant was acquired in 2009 and is home to the production of wide-ranging underground utility products for customers working with Boston Edison, NSTAR, PSNH, Unitil and National Grid. Notable products include light pole bases, light pole foundations, handholes, manholes and pull boxes.
"It's about the right people, knowing your costs and understanding the best practices and standards within this industry," Blackledge said. "People need to be properly motivated for success.That's how good companies grow and succeed, just like Shea Concrete has...it impressed me."
Contact
SHEA concrete products
87 Haverhill Road
01913 Amesbury, Massachusetts
United States
Phone:
+1 800-696-7432
Fax:
+1 978-388-6959
E-Mail:
sales@sheaconcrete.com
Internet:
To website