Sewer Inspection Crawler Wheel Set-ups Poster
You won't get far with the wrong wheels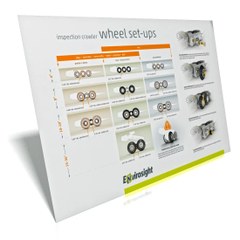 Heavy debris? PVC? Small-diameter lines? Pipe material, diameter and condition all impact how sewer inspection crawlers navigate through treacherous environments. Select the wrong wheels, and you could lose traction before the job is complete.
Envirosight's Inspection Crawler Wheel Set-ups Poster depicts popular wheel set-ups best suited to various combinations of pipe size, material and condition. With the right configuration, you can maximize ground clearance and side wall contact, optimize grip, and minimize camera vibration.
Hang it in your truck for quick reference when you're on the job.
*Available to US and Canadian addresses only.