Sekisui SPR and Brandenburger have signed a sales cooperation agreement
Sekisui SPR and Brandenburger entered into a sales cooperation agreement beginning in April. The agreement sets out to mutually expand their product portfolio and further strengthen their market positions in international standards respectively.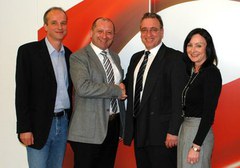 "Sekisui SPR and Brandenburger have different product portfolios that complement each other excellently.", said Werner Reiner, Managing Director SEKISUI NordiTube, subsidiary of the Sekisui SPR Europe GmbH. Holger Zinn, Director at Brandenburger, adds: "The sales cooperation opens possibilities for both corporations to mutually make use of resources worldwide and to offer the customer a comprehensive program for their specific rehabilitation tasks."
Using strengths mutually
Both companies were facing challenges to strengthening their position in the rehabilitation market. Sekisui SPR was lacking a light-curing glass fibre liner in its program, and since demand for this process of pipe lining is increasing, Sekisui SPR was confronted with the question of either developing its own product, or collaborating with a different manufacturer. The market for UV liner is already well covered by established manufacturers and more parties are joining in. In light of this, the decision was made to be on the lookout for a partner. Revealing his preference for a cooperation with Brandenburger, Werner Reiner commented that, "Brandenburger is a pioneer in this field and in my estimation is as before a technology leader."
On the other hand, the diameter of Brandenburger's liners are limited to a width of DN 1000. "We debated whether it more realistic to manufacture larger tubes or if a more intelligent variant already existed that could then expand our service range.", stated Holger Zinn. With its subsidiary SEKISUI Norditube, Sekisui SPR has the means for the classic pipe-lining mode with needled felt and warm water curing and tube technologies for the pressure pipe range. Additionally, there are different wound pipe processes up to SPR technology, which is especially interesting for the rehabilitation of large profiles of different cross-section shapes. According to Werner Reiner: "With this cooperation, we cover a spectrum in the sewage area of DN 100 up to diameters of 5 metres or more and for pressure lines ranging from DN 100 to DN 1000 - unprecedented, till now."
A further argument is added for Brandenburger: Germany and France are already developed as core markets for the company. Further internationalisation of the business is the goal. "In partnering with the global player Sekisui SPR, we see the opportunity to make use of existing sales structures for our product and thereby find improved access to markets in which we were previously not present or – measured by their respective potential – too weakly present.", explains Holger Zinn.
Advantages for the customer
And how does this cooperation benefit the customer? Concerning rehabilitation companies, in the future, the respective customers should have at their disposal a broader range of processes with the corresponding consultation by the provider. This will ultimately increase our competitiveness. "Beyond that, due to the broad service spectrum, the possibility also has improved for consulting network operators and planners specifically for the project in the direction of the optimal process for the individual case.", explained Jacqueline Gruettner, Sales manager for Brandenburger. A tendency towards more complex projects can be recognised, added Stefan Schikora, Sales manager for Sekisui NordiTube. "Tenders are placed on the market with several conduits of different diameters, lengths and conditions. If you can flexibly offer complete solutions with the most suitable process for the individual case, then this also surely offers advantages for the client."
First responses from customers have been definitely positive, reports Holger Zinn. The new cooperation was presented to an expert audience for the first time on the 8th German Pipe Liner Day in Hanover on 27 April 2010.
Contact:
Brandenburger Liner GmbH & Co. KG
Frau Dipl.-Wirtschaftsing. Jacqueline Grüttner (Vertriebsmanagement Europa)
Taubensuhlstraße 6
76829 Landau / Pfalz
PH: +49 (63 41) 51 04 – 279
E-Mail: j.gruettner@brandenburger.de
Internet: www.brandenburger.de