SEKISUI Chemical Co., Ltd acquires major shareholding in Austrian pipe rehabilitation specialist Rabmer: Expansion into Central and Eastern Europe
Rabmer Pipe Rehabilitation is with immediate effect a subsidiary of the SEKISUI Chemical Co., Ltd. Upon signing the contract in December 2011, the Japanese industrial concern, of which the SEKISUI SPR Europe Group is a member, received a 75% shareholding which enables it to expand its competence in the rehabilitation of underground infrastructure systems into Central and Eastern Europe.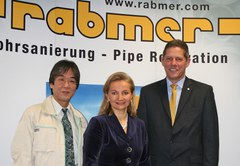 With the shareholding in Rabmer Pipe Rehabilitation Group, SEKISUI Chemical Co., Ltd continues its growth strategy and establishing market leadership in the pressure and sewer pipe rehabilitation in Europe. The Austrian company with approx. 180 employees is a front runner in the inspection, cleaning and trenchless rehabilitation of pipes with a focus on pressure pipe rehabilitation. This competence combined with the Eastern European market orientation help to consolidate the existing market position of affiliate company SEKISUI SPR Europe. "The merger with Rabmer is a decisive step for us into Central and Eastern Europe and secures additional markets for the expanded rehabilitation portfolio," says Edmund Luksch, CEO of the SEKISUI SPR Europe Group with delight.
Rabmer, whose head office is at Altenberg near Linz, will continue to operate under its present name as a subsidiary of SEKISUI Chemical Co., Ltd. Ulrike Rabmer-Koller will retain 25% of the company and stay on as manageress together with Wolfgang Steinbichler. "We offer our customers 25 years of knowhow in trenchless pipe rehabilitation and innovative renewal technologies. The fusion with SEKISUI creates synergies for both groups and is a perfect combination of systems, technologies and markets. With SEKISUI as an international parent company we will be able to build on our strengths, develop additional markets and add further technologies to our portfolio," explains Manageress Ulrike Rabmer-Koller.
The merger of SEKISUI and Rabmer results not only in a pooling of knowledge and experience in the development, engineering, construction and sale of the innovative rehabilitation solutions of the two companies. Rabmer's "Close-fit" method now supplements the product range of affiliate company SEKISUI SPR Europe in the product portfolio of trenchless technologies. Together with locally established Rabmer subsidiaries in Austria, Poland, Romania, Croatia, Czech Republic, Ukraine and Slovakia SEKISUI Group intends to accelerate the marketing of SPR spiral-wound pipe lining technology in the central and eastern European growth markets.
Further Information
Rabmer Holding GmbH
Bruckbachweg 23
A-4203 Altenberg
Mag. Ulrike Rabmer-Koller
Tel. +43 (0) 7230 / 7213-714
Fax +43 (0) 7230 / 7213-731
Contact
SEKISUI SPR Europe GmbH
Lena Zemke
Julius-Mueller-Straße 6
32816 Schieder-Schwalenberg
Germany
Phone:
+49 (0) 5284 / 705-405
Fax:
+49 (0) 5284 / 705-410
E-Mail:
presse@sekisuispr.com
Internet:
To website