Sealing a tunnel under the Thames
Tunneling through the waterlogged ground close to and beneath the River Thames in London requires high-quality seals. Trelleborg does its part to strengthen London's transport infrastructure for the 2012 Olympics.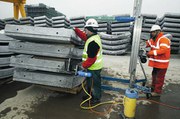 Pre-cast specialist Buchan Concrete Solutions is part of the AMEC Group, constructing the GBP 177 M Docklands Light Railway Woolwich Arsenal Extension (DLR-WAX) due to be completed in February 2009. Technical Manager for the project, Colin Rowley, wanted the best. "Trelleborg probably has the most specialized people in the market. If you have an application subject to demanding conditions, it will create the gasket you need. It will design and test the product, so that you can have the confidence you need when doing your job," says Rowley.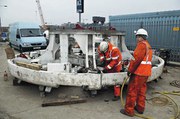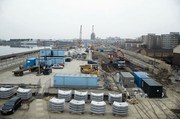 Buchan, which provides pre-cast concrete solutions for subterranean and surface projects from tunnels to hotels and university buildings, decided to manufacture the concrete tunnel-lining segments on-site. The DLR-Wax tunnel will run from an intensely built-up area close to London's City Airport to Woolwich in two curved tunnels requiring a total of 2,425 rings. Each ring comprises eight 2.25-metric ton segments, which are individually sealed using Trelleborg gaskets. The tunnel will be bored by "Carla" – a unique 98m long, 6m diameter, 600-metric ton tunnelboring machine made by Lovat Inc. in Canada and shipped to Liverpool in three pieces. A 1,000-tonne crane will move Carla into position to start her work.
On-site production was more than a convenience. AMEC decided it was better for the environment than transporting segments from the main Buchan plant more than 200 miles away, saving around 2,000 heavy vehicle journeys through London. Trelleborg has worked closely with Buchan to ensure gaskets are available just when required. As Rowley said, "We started production in November using our own moulds and high-spec concrete. We employed local labor but brought experienced people to instruct and train people here." The 28-strong workforce is producing 64 units a day in a schedule calculated very carefully to prepare sufficient stock (but not too much) and a steady supply when tunnelling starts this April. There will be a lull next autumn when the first tunnel is completed and Carla has to be dismantled and returned to the start, because by tunneling from north to south the spoil can be removed by barges, greatly reducing road haulage and environmental impact. Rowley emphasizes the tough demands on everyone involved in the manufacture of the concrete segments and the Trelleborg gaskets, as the tunnel has a designed life of 120 years. "Everything is checked 100 percent by the inspectors and there's a secondary inspection of one in 20 segments by the works manager or me." As tunnels don't run in conveniently straight lines, linings must be adjustable to allow changes in alignment and levels without compromising the fit of the concrete segments or gasket seals. "You have to be able to steer the machine in any direction, so there are four different types of tapered segment per ring requiring four different types of gasket," he says. "These aren't solid but cellular so the gasket deforms predictably when it's squeezed into place by the tunnelling machine, preventing the high-pressure ground water from leaking in."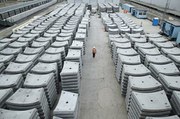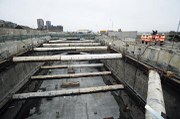 Each tunnel is unique
"Preparation for the 2012 Olympics will increase the number of infrastructure projects like this and Trelleborg is determined to play a major role in these projects, maintaining its preeminent position in the UK. Winning the DLR and the Lea Valley cable tunnel is the start of this process," says George Burgess, a longtimer at Heinke, which was acquired by Trelleborg last spring. Trelleborg has supplied gaskets for hundreds of immersed and bored tunnels all over the world and Burgess stresses that each is unique. "Tunnels are always different sizes. Each one requires its own tunneling machine. There are different gaskets for different water pressures and, in this case, they will encounter pressures of about 55psi (pounds per square inch) 30 meters below the river surface," he explains. "It is crucial the gasket has the right volume of rubber and must fit the groove in the concrete segments precisely. The gaskets used for this tunnel are CS005s, developed four years ago to cope with deeper tunnels and the relatively tight bends of metro systems."