Sand, Suction and Safety
TT-UK Suction Excavators working in Saudi Arabia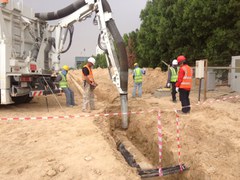 With huge construction plans approved for Major City extensions and large Infrastructure projects across the whole of Saudi Arabia, TT-UK's Suction Excavation technology provides 'Quick' and 'Safe' methods of Sand excavation. These Suction Excavators will play an important and significant role in the future for these forthcoming construction job-sites.
With increased emphasis on today's issue of environmental impact and social disruptions; along with constant pressures placed upon manufacturing companies to continually produce equipment designs with added cost saving benefits, the TT-UK Suction Excavator is surely another Trenchless Technology innovation playing its part in these times of constant economic challenges.
There is continued focus by TT-UK to develop and expand its Trenchless Technology (NDRC) equipment range into the Kingdom of Saudi Arabia as well as the entire Middle East Region. Earlier this year saw the first two (2) Mercedes Benz TT-UK Suction Excavator Vehicles arrive into the Eastern province of Jubail and Yanbu to work on a project for Utility rehabilitation.
Operating on 8 x 8 strong construction chassis with special rear wheels (2.75m Wide) the Suction Excavators are able to operate perfectly in extreme desert conditions, or they can be exchanged to single wheels only for normal road use.
The two TT-UK Suction Excavators were supplied to a well-respected Saudi Based specialist contracting company (part of a prestigious Saudi Group of Companies), who were working in close collaboration with the Power and Water Utility company on a Utility replacement/refurbishment programme.
Suction Excavation was the preferred method throughout these multi, continuous water line and sand excavations, not only because of the sensitivity of the project but also as the project was very time restricted.
Contact
TT-UK Ltd
Donna Constable
Windsor Road
MK42 9SU Bedford
United Kingdom
E-Mail:
info@tt-uk.com
Internet:
To website