Safety of Pipeline Systems at the Heart of the 7th ptc
Europe's leading Pipeline Technology Conference will be held for the 7th time in 2012. This year the EITEP conference with accompanying exhibition will be focusing on the technological safety of pipeline systems.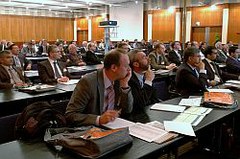 Engineers and developers across Europe have many years' experience with pipelines, as many pipeline systems have been in operation for more than 50 years, transporting gas, oil, and water reliably. During this time, the networks have steadily expanded throughout Europe; consequently the experience in pipe installation has increased, too. German companies lead the way when it comes to planning, building, operating, maintaining and repairing pipelines. Thanks to this the number of pipe disruptions has decreased despite of many more networks being in place. Basic safety of pipeline systems has played a major role in this. However, more than 2,000 defects still occur in European pipeline networks annually. In other words, there's room for improvement in order to increase pipeline availability and safety further still. In addition to third party impact, such as damages caused during construction works or farming, flaws in design and corrosion are causes of pipe damage.
Experts from all over the world attend this international Pipeline Technology Conference to learn from one another, with more than half of all participants coming from abroad. This 7th conference in 2012 will again boast top-class speakers from the oil, gas and water sectors, who will be reporting on the latest key projects and developments in the industry and will be introducing new technologies. Here, operators, planners, construction companies, manufacturers, service providers, public authorities and government departments have the opportunity to gather information about cutting-edge safety, modernization and expansion strategies. At this conference/exhibition they will have the chance to exchange experiences between colleagues as regards working methods and other related matters.
Other topics at the 7th Pipeline Technology Conference will cover safeguarding supplies and energy efficiency, environmental protection during construction and operation, as well as "cyber security", which refers to the threat of attacks targeting computer networks that control system operations.
The Pipeline Technology Conference will take place in the Hanover Congress Center from March 28 to March 30, 2012. Program details for the 7th Pipeline Technology Conference will be available in January 2012, and proposals for talks may be submitted until the end of November 2011.
Contact
EITEP – Euro Institute for Information and Technology Transfer in Environmental Protection GmbH
Dennis Fandrich
Am Listholze 82
30177 Hannover
Germany
Phone:
+49 (0) 511 90992 - 22
Fax:
+49 (0) 511 90992 - 69
E-Mail:
fandrich@eitep.de
Internet:
To website