SABIC Innovative Plastics' Resins Optimize Water Valves with Design Freedom, High Performance and Long Life
BERGEN OP ZOOM, The Netherlands – Because of their exposure to static or fluctuating pressure, high temperatures and various chemicals, water valves have traditionally been made from metals such as brass. However, today's engineering thermoplastics can replace metal, delivering not only high performance but also the benefit of enhanced design freedom. SABIC Innovative Plastics' portfolio of advanced specialty materials, combined with the scientific expertise of its Fluid Engineering Center of Excellence in Bergen op Zoom, The Netherlands, offers customers new choices for water valves that can ensure a high level of efficiency, durability and performance.
"SABIC Innovative Plastics has led the industry in leveraging the huge potential of engineering thermoplastics for fluid handling," said Frank Heessels, leader for the Fluid Engineering Center of Excellence. "To be certain that a resin can withstand the demanding environments that water valves are subjected to, long-term performance data is needed. Therefore, we made a major investment in the Fluid Engineering Center to ensure that our materials will deliver high performance over long life spans. Using our sophisticated testing and measurement technologies, we can assure customers that these materials will meet their toughest requirements."
The design simplicity and innovation of a water valve can significantly influence its final performance. Compared to metal, which requires the mechanical assembly of multiple parts, thermoplastics, such as SABIC Innovative Plastics' Noryl* and Ultem* resins, allow multiple components and functions to be integrated into a single part.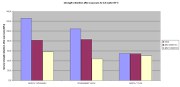 Advanced and proven manufacturing technologies expand the possibilities of plastic valve designs. For instance, a smooth and chemically resistant inner surface can be overmolded with a structural external housing in one process step, saving time and money by eliminating secondary operations.
Knowing how various plastic materials perform when manufacturing plastic valves is important to ensuring good performance of the final part. SABIC Innovative Plastics uses structural and processing simulation tools to help predict the performance of applications. The success of this approach will strongly depend of the quality on the data provided.
In addition to design optimization, the staff of the Fluid Engineering Center tests the following critical material properties of resins targeted for use in water valves.
Static Strength: High initial static strength of a material may be required to withstand abusive assembly by an installer who is used to metal components. If this abusive assembly occurs at the beginning of the life of a component, traditional engineering design is often used. However, the component stresses that result from assembly may not be present during the whole lifetime of the part. If the design allows for it, these stresses may relax, especially at elevated temperatures. If abusive forces are too high, the design flexibility of plastics often permits a stronger design. SABIC Innovative Plastics offers a wide product portfolio based on a large number of resins and reinforcement systems, and able to withstand many different operating environments.
Long-term Creep Displacement and Strength: Typically, valves are loaded with a constant internal pressure, which translates to constant stress in the part. As a result, thermoplastic materials will slowly deform (creep). Amorphous resins such as Noryl* and Ultem* resins typically creep less and retain dimensions and valve sealing longer than semi-crystalline resins. However, if stresses are too high the deformation may grow to a critical level and ultimately cause failure of the part, a phenomenon called creep rupture. There are many glass-fiberreinforced resins that can be used to improve the creep performance of a material, for instance Ultem 2300, Noryl GTX and Noryl GFN1630V resin grades.
Fatigue: Fluctuating pressures cause a very different material behavior. Fatigue may result from pressure fluctuations in the system, a sudden closure of the valve (water hammer), or the difference in thermal expansion caused by temperature changes on dissimilar materials connected together. Fatigue causes damage to the material, which may accumulate until failure occurs. Fatigue performance depends on design features such as type of stress and material thickness. For example, thinner walls usually result in a longer life under the same fatigue stress. SABIC Innovative Plastics' Noryl GFN1430V resin can improve thin-wall performance in these types of applications.
Water and Chemical Resistance: Plastics are often considered for valves used in environments that present a high risk of corrosion or chemical exposure. However, the length of exposure ultimately determines whether the component will have sufficient resistance. Higher temperatures and continuous stress accelerate the effect of a chemical on material strength.
Some semi-crystalline resins such as polyamide and polyphenylene sulfide have better resistance against many chemicals than amorphous resins such as polyphenylene ether and polystyrene. However, SABIC Innovative Plastics' Noryl polyphenylene oxide (PPO) resin, while amorphous, nonetheless provides better hot water resistance than other resins with otherwise similar performance. Further, glass-fiber-reinforced resins may show some strength reduction in hot water because of degradation of the interface between the resin and the glass fiber. SABIC Innovative Plastics has developed a wealth of understanding about these effects for a wide range of different plastic resins, and how they interact in a complex shape like a valve.