SABIC Innovative Plastics Expands Investment in Fluid Engineering Center to Develop High-Performance Materials for Water Systems
Growing concerns about health and safety risks and increasingly high costs of metal in fluid handling systems are prompting the use of plastic pipes, faucets, valves, boilers and other components. Plastics offer the potential to build cleaner, safer and more cost-effective water systems; however, each material must undergo extensive testing. To provide the most rigorous and sophisticated evaluation of its engineering thermoplastics, SABIC Innovative Plastics has invested in enhancements to its Fluid Engineering Center of Excellence in Bergen op Zoom, The Netherlands. The research center, which opened in 2005, now gives global customers access to a wider array of testing equipment, more extensive and longer-term tests, and expanded scientific resources to help them develop highly advanced, innovative fluid handling solutions.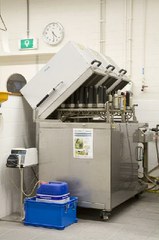 "Theft of copper is just one effect of the recent increase in copper prices – another is strong interest in finding good replacements for copper," said Frank Heessels, leader for the Fluid Engineering Center of Excellence. "Brass is another issue; because lead is used in manufacturing brass alloys, California is restricting its use for health reasons, and other jurisdictions are expected to follow. Plastics are excellent replacement materials for copper and brass. To help component manufacturers in their search to find optimal solutions, SABIC Innovative Plastics is working closely with these and other customers to provide world-class testing and evaluation facilities to drive the development of tomorrow's fluid handling applications."
The mission of the Fluid Center of Excellence is to identify, evaluate and help optimize resins and compounds for fluid handling. Replacing traditional copper, stainless steel, and brass with SABIC Innovative Plastics' materials such as Noryl* resins and LNP* Lubricomp* compounds can help reduce costs, avoid the risk of lead exposure, enable part integration, and provide consistently high performance over a long lifespan.
Varied, Long-term Testing Crucial to Safety and Durability
Short-term tests, which are common for metal components, often will not provide an adequate or realistic assessment of a part's performance over its operating life. Further, different types of plastics may respond very differently to a test, depending on the chemistry of the polymer and its reinforcement. Finally, a polymer may perform well under one set of conditions but poorly in another. Long-term testing is critical to help evaluate appropriate applications and conditions for each material, and the Centre of Excellence, with its deep understanding of how SABIC Innovative Plastics' materials perform in this complicated environment, is an excellent resource to better help our customers.To provide this much needed customer support, the Fluid Engineering Center, which already possesses constant pressure creep rupture (LTHS) and fatigue testing (fluctuating pressure) capabilities, has added new equipment and testing procedures:
Chlorine exposure test to measure the effect of chlorinated water – especially hot water – on plastics.

Hot-cold shock test to evaluate the durability of connectors and seals in water pipes exposed to rapid and repeated temperature changes.

Bending creep rupture test to study the long-term strength of bars exposed to hot water and a continuous load.
Another aspect of the center's expanded capabilities is greater variety in applications to be tested. "We expanded our tests to include applications such as boilers, faucets, pipe connectors and threaded pipes to better understand how material behavior can translate to application performance. They also give us feedback about how to improve materials to best meet our customers' needs. As a result, SABIC Innovative Plastics has developed advanced compounds that offer performance targeted at specific water handling scenarios," Heessels said.
High-Performance Resins and Compounds
SABIC Innovative Plastics' Noryl and Noryl GTX* resins are used widely in water meter components and pump impellers, due to their low water absorption and dimensional stability that provide better accuracy and performance.
LNP Lubricomp graphite-filled compounds are an excellent material candidate for water applications such as water meter pistons due to their abrasion and wear resistance, hydrolytic and dimensional stability, and low coefficient of friction.
Ultem* resin is an excellent material candidate for highly technical applications requiring high temperature, tight dimension and long term stability in combination with potable water approvals.
For additional information on SABIC Innovative Plastics' Fluid Engineering Center of Excellence, please visit
www.sabic-ip.com
.
Contact:
SABIC Innovative Plastics
Helen Vandebovenkamp
Plasticslaan 1
4600 AC Bergen op Zoom
Netherlands
Tel: +31 164 292 097
Fax: +31 164 291 066
E-Mail: Helen.vandebovenkamp@sabic-ip.com
Internet: www.sabic-ip.com