S & P realizes first workshop with specialists from the National Water Company in Riad
The focus of the workshop paid special attention to the sharing of practice orientated knowledge of Asset Management. The participants were familiarised with the current state of technics with the help of modern didactical learning concepts. The workshop included the stimulating participation of 24 civil engineers.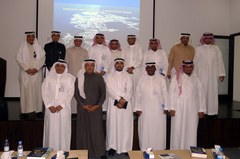 The technical director of the workshop was Dr.-Ing. Robert Stein, C.E.O. of S & P Consult GmbH and Prof. Dr.-Ing. Stein & Partner GmbH in Germany. Organisational support was given by Mr Nabeel M. Al Sharfa, Managing Partner Masarat Holding.
The one day training focused on the integral planning and management of drainage systems and the development of sustainable rehabilitation strategies. The motto "to have a strategy is not enough, success in the long run involves knowing the technical, financial, and ecological target values" represented the frame of the workshop. Discussed topics focused on the following aspects:
Development of the network condition
Development of the operating costs and investments
Remaining time of usage of the network and of single network clusters
Development of the risk contingency
Effects on the long-term asset value and maintenance budgets.
All participants received access to the e-learning platform www.UNITRACC.com. UNITRACC stands for "Underground Infrastructure Training and Competence Centre", and is the world's most compre-hensive multimedia Web-based e-learning platform in the field of pipeline construction and pipeline maintenance. Its content is part of a German-Arab Education initiative called AQWA Academy, and is presented in association with the Federal Republic of Germany, the Federal Ministry for Education and Research (BMBF), and is supported by the academic partners of the German Water Industry and Arab educational institutions.
A special thank for the positive outcome of this workshop goes particularly to the participants, who through their active interaction initiated exciting in-depth technical discussions. It was hence easy to establish a correlation between theory and practice, which is essential to the constructive transfer of knowledge. In addition, the NWC Human Resource Department deserves special gratitude for the arrangement and organization of workshop, and for the opportunity to implement such a shining ex-ample in the Arab region.
All in all, S & P Consult GmbH is very pleased with the outcome of this workshop, and looks forward to future cooperation with the water experts of Saudi Arabia.