Robbins TBM digs deep for down under sewer project
A new Robbins Double Shield TBM will tunnel underneath the northern suburbs of Melbourne, Australia, calling for innovative changes to the tunneling operations and extensive site monitoring.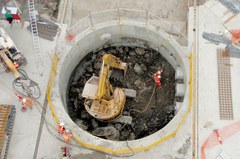 In September 2007, Yarra Valley Water signed the contract with John Holland Construction for a 3.0 m (9.8 ft) Double Shield TBM, back-up, spare parts, and cutters.  The machine will be used for a sewer tunnel on the Northern Sewerage Project Stage 2, totaling 3.2 km (2.0 mi) in length. The proximity of tunneling to nearby homes will require site modifications including thorough vibration monitoring and a noise mitigation acoustic shed to dampen sounds during construction hours.
The Robbins TBM will be launched from a 35 m (115 ft) deep shaft at the compact Newlands Road job site. The machine will utilize 17 inch cutters to bore through basalt rock ranging from 60 to 270 MPa (8,700 to 39,200 psi) UCS. As the TBM bores, full muck cars will be hoisted up the shaft and side-dumped into a spoils bin for removal by rubber-tired vehicles. Launch of the TBM is scheduled for late August 2008, after fabrication and assembly in the Robbin's Solon, Ohio, USA facility.
"Most civil tunnel works in Australia in recent years have been undertaken using road headers and soft or mixed ground TBMs. This is an opportunity to demonstrate how hard rock TBMs can perform," explained Ken Muir, Project Manager for John Holland Construction.
The Northern Sewerage Project is worth AUD $650 million and involves construction of 13 km (8 mi) of sewers ranging from 1.6 m to 2.5 m (I.D.). Excavated simultaneously in two stages, the project will be jointly delivered by Melbourne Water (Stage 1) and Yarra Valley Water (Stage 2). The sewers will help protect local creeks from seasonal sewage overflows, and will allow Melbourne's sewer system to meet growing commercial and residential demands. Stage 2 of the project involves 4.5 km (2.8 mi) of tunnel and is expected to be complete by 2012.
Contact information:
The Robbins Company
Brianna Home
Marketing Director
5866 S. 194th St.
Kent, Washington 98032, USA
Direct: +1 253 872 4484
eMail: homeb@robbinstbm.com
Web: http://www.therobbinscompany.com

Desiree Willis
Technical Writer
5866 S. 194th St.
Kent, Washington 98032, USA
Direct: +1 253 872 4490
eMail: willisd@robbinstbm.com
Web: http://www.therobbinscompany.com