Robbins receives prestigious award for AMR Project in India
On April 12, 2007, Robbins was named Small Business Environmental Project Exporter of the Year by the Export-Import Bank of the United States. The recent accolade is in reference to the AMR Project in Andhra Pradesh, India. The contract is for the largest single TBM order in history, which includes two Robbins 10 m (32.8 ft) diameter Double Shield machines, back-up systems, conveyors, cutters, other associated equipment, and personnel. Ex-Im Bank is involved in the project through backing the contract with a Working Capital Guarantee (WCG).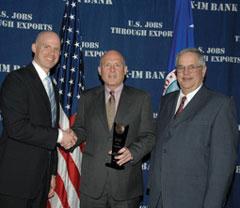 "For the tunneling industry, and Robbins specifically, to be recognized for an environmentally friendly project is a great honor. We like to think we are doing our part to help preserve the environment, especially through projects for subways and sewers," said Lok Home, President of The Robbins Company. The 43.5 km (27 mi) long water tunnel for the AMR Project will be TBM-driven to minimize environmental disturbances as it passes 500 m (1,600 ft) under India's largest tiger reserve.
Components of the TBMs are currently being shipped to India from Robbins U.S. locations for an initial onsite assembly beginning in July 2007. When complete, the water tunnel will be the longest tunnel without intermediate access in the world. The tunnel will be part of a 100 km (62 mi) long network of tunnels and canals that will bring potable water from the Srisailam Reservoir to the drought-prone Nalgonda District in Andhra Pradesh State.
The TBMs will be launched from opposite ends of the tunnel at the inlet and outlet portals in September 2007. Launch pits will be used for machine assembly at each portal, measuring 160 m long x 45 m wide (525 ft x 148 ft) at the outlet and 120 m long x 45 m wide (394 ft x 148 ft) at the inlet. The TBM-driven tunnel will connect to a second 7.3 km (4.5 mi) long, 9 m (30 ft) diameter water tunnel being excavated by drill and blast. Both tunnels will be linked via a balancing reservoir on the Dindi River.
"We've increased employment within the company by about 50 people to work on the AMR Project," said Jim Virost, Chief Financial Officer for Robbins. "This contract is one of several projects in India that we are currently involved in, and we anticipate providing machines for more."
Further information:
The Robbins Company (Headquarters)
Brianna Home (Marketing Director)
29100 Hall Street
Solon, OH 44139 USA
Phone: +1 253 872 0500
Email: marketing@robbinstbm.com
Web: www.robbinstbm.com