Robbins hybrid EPBM a versatile solution for Istanbul sewer
A 3.1 m (10.2 ft) diameter Robbins Hybrid EPBM in Istanbul, Turkey can bore in two very different situations. The hybrid machine can switch between hard rock and EPB modes, making it ideal in mixed ground conditions. The bored tunnel will be used to help clean up a sewer system for over 250,000 people living along Istanbul's Beykoz coastline at the Bosphorus. NTF Construction Company will bore two mixed ground tunnels of 4.1 km (2.5 mi) and 3.0 km (1.9 mi) in length with the hybrid machine.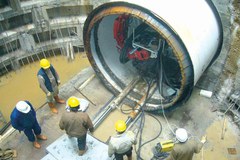 The Kavacik-Beykoz Wastewater Tunnels are part of a larger scheme by the Istanbul Water and Sewerage Administration (ISKI) to modernize Istanbul's deteriorating sewers. The two tunnels will convey untreated water via gravity from coastal areas to a new water treatment plant. A 30 m (100 ft) deep shaft, lined with concrete segments, will allow water to be pumped from both the tunnels to the plant. Once the entire system is complete, it will treat approximately 575,000 m3 (1.5 million gallons) of water per day.
Geological conditions in the tunnel are highly variable due to Istanbul's location in a seismically active zone. Multiple fault lines exist at the tunnel site, and ground varies from silty clay to shale to limestone (rock varies from 75 to 100 MPa/ 11,000 to 14,500 psi UCS). Coral limestone found in preliminary geological tests also showed karstic features.
Specialized for mixed ground tunneling, the hybrid EPBM began excavating the Beykoz Tunnel in the first quarter of 2007. The machine is capable of boring with either 14-inch diameter disc cutters in medium to hard rock, or with tungsten carbide drag bits in soft ground. In the hard rock mode, the machine operates using a standard TBM belt  conveyor for muck removal. In soft ground, the machine operates as a non-slurry EPBM using a screw conveyor to transfer spoils to muck cars for removal.
The Robbins circular back-up system (2.6 m/ 8.5 ft in diameter) allows for maximum space of the muck hauling system, which consists of a single track running down the center of the back-up. The 60 m (200 ft) long, 17-gantry back-up contains the TBM power pack and electrical systems, as well as a foam generation system for use when the machine is converted from hard rock to soft ground mode.
A single-arm segment erector is used to line both tunnels with 200 mm (8 in) thick reinforced concrete segments in a 5 + 1 arrangement. Sand and cement grout mixture is used to fill the annulus. Waterproof seals are also applied in between each segment.  Once boring is complete a second concrete lining will be added, making the finished diameter of the tunnels 2.2 m (7.2 ft).
As of August 2007, the machine had bored 1.1 km (0.7 mi) of the 4.1 km (2.5 mi) long Beykoz Tunnel, scheduled for completion in December 2007. The machine will then be stopped for maintenance and transported to the Kavacik shaft. Both tunnels should be complete by December 2008.
Contact information:
The Robbins Company
29100 Hall Street
Solon, OH 44139 USA
Phone: +1 440 248 3303
Fax: +1 440 248 1702
Web: http://
www.robbinstbm.com

Brianna Home
Marketing Director
Direct: +1 440 253 872 4484
eMail: homeb@robbinstbm.comDesiree Willis
Technical Writer
Direct: +1 440 253872 4490
eMail: willisd@robbinstbm.com