Robbins EPBM sees the light in Delhi
After five months of tunneling, a Robbins EPBM has completed its first bore in New Delhi. The machine is one of two Robbins EPBMs boring parallel 2.0 km (1.2 mi) long tunnels for the second phase of India's New Delhi Metro Extension Project. A total of four machines are boring a new 5.3 km (3.3 mi) line between the Udyog Bhawan and Green Park areas for the Continental Engineering Corporation (CEC)/ Soma JV.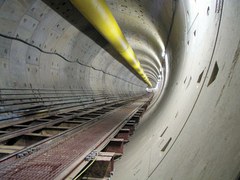 The 6.52 m (21.4 ft) diameter Robbins machine was launched in May 2008 from Jor Bagh station and completed its first 1.0 km (0.6 mi) leg of the tunnel on September 29, 2008, holing through into the cut and cover site of Race Course Station.
"Advance rates were higher than anticipated—up to 19 rings were installed per day and the machine averaged over 90% availability," said Bob Moncrieff, Project Manager for CEC. Electric motors have contributed to the advance rates, by allowing the cutterhead to keep rotating in sticky ground consisting mainly of soft clays.
The machine will next be dismantled in a reception pit and transported by road to the other end of the 318 m (1,000 ft) long Race Course site, where it will begin the second half of its bore to the contract boundary at Udyog Bhawan station. A second machine, launched later in the year, has advanced 50 m (160 ft) towards Race Course Station and recently began boring with all five of its back-up gantries on October 1.
The parallel tunnels are part of more than 120 km (75 mi) of new rail being built for the Delhi Metro Rail Corporation (DMRC). A tight schedule calls for all tunneling to be complete by December 2009, well in advance of the 2010 Commonwealth Games, which will bring an expected 5.5 million visitors to the city.
Kontakt:
The Robbins Company
Brianna Home
29100 Hall Street
Solon, OH 44139
USA
Tel.: 253.872.4484
E-Mail: homeb@robbinstbm.com
Internet: www.robbinstbm.com