Robbins EPB Surpasses Records on New Delhi Metro
In February 2009, one of two Robbins EPBs boring India's New Delhi Metro conquered a new feat. The machine achieved a weekly advance rate of 168 rings, or 202 m (663 ft)-the highest advance rate amongst any of the 14 TBMs used on the metro project.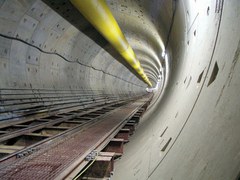 Two 6.52 m (21.4 ft) diameter Robbins EPBs were commissioned to bore the BC-16 contract of the New Delhi Metro Extension Project, Phase II. The Continental Engineering Corporation (CEC)/Soma JV is excavating the twin tunnels, which will join Delhi's Udyog Bhawan and Jor Bagh areas. "Everyone at CEC is very pleased, and appreciated the performance of the machines," said Kapil Bhati, General Manager-Operations of the Robbins India office in New Delhi.
The two machines excavated parallel 2.0 km (1.2 mi) tunnels, breaking through into an intermediate cut and cover station at the 1 kilometer mark. The record-setting machine finished its final 1.0 km (0.6 mi section) on March 5, 2009.
The second machine has just been launched on its final section and is scheduled for a final breakthrough in May 2009. Maximum advance rates for this machine have also been very good, topping out at 142 m (466 ft) per week. Approximately 16 km (10 mi) of TBM drives are involved in Phase II of the project, with about 30 km (19 mi) of underground works in total including cut and cover stations. The project is on a tight schedule, which calls for all tunneling to be complete by December 2009, in advance of the 2010 Commonwealth Games. The games will be hosted in New Delhi and are expected to bring 5.5 million visitors to the city.
Contact:
The Robbins Company
Brianna Home
29100 Hall Street
Solon, OH 44139, USA
PH.: 253.872.4484
E-Mail: homeb@robbinstbm.com
Internet: www.robbinstbm.com