Robbins EPB Racks Up Records for Sacramento Breakthrough
TBM Completes California's UNWI Sewer Tunnel Ahead of the Curve

A 4.25 m (13.9 ft) diameter Robbins EPB is rewriting the industry standard for soft ground tunneling rates. The machine excavated a 5.7 km (3.6 mi) long tunnel in Sacramento, California, USA, achieving rates of up to 210 m (690 ft) per week on multiple occasions in 2009. Daily rates, based on three 8-hour shifts, topped out at 50.3 m (165 ft)-among the highest rates ever recorded for an EPB TBM in the 4 to 5 m (13 to 16 ft) diameter range.
The machine made a final breakthrough into a receiving shaft on November 21, 2009, several weeks ahead of schedule. "The availability of the TBM and associated sub-components was very high for a tunnel heading operating 24 hours a day, 5 days per week. In addition, the Robbins-supplied tunnel conveyor system performed remarkably well throughout the drive," said Jeremy Theys, Project Manager for the Traylor/Shea JV (project contractor).

The finished tunnel requires no final carrier pipe, as the 230 mm (9 in) thick concrete segments were designed with embedded PVC sheets. The 1.75 mm (0.07 in) thick PVC lining will protect the sewer tunnel from corrosive gases that can degrade concrete - the first time this type of liner has been used in the U.S. As the machine advanced, workers heat welded the joints between segments for a permanent seal. Gaps between segment rings were sealed together using four inch wide PVC strips, while radial gaps between segments were closed using one inch strips.
The EPB was optimally designed for ground consisting of clay and running sand, utilizing a spoke-type cutterhead and wear resistant plates. Muck was removed using a 500 mm (20 in) diameter shaft-type screw conveyor emptying onto a Robbins continuous conveyor system. To tackle curves down to 400 m (1,300 ft) radius, the machine utilized active articulation rather than the passive system. Active articulation allows the front and rear shield to turn independently of the thrust cylinders, eliminating the common problem of ring deformation in curves.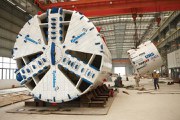 Sacramento's Upper Northwest Interceptor (UNWI) sewer project will convey up to 560 million liters of wastewater per day for project owner Sacramento Regional County Sanitation District (SRCSD). The new tunnels will add capacity to existing interceptor systems in the area, which are currently close to overflowing during heavy rains. The entire 30 km (18 mi) long UNWI 1 & 2 sewer line is expected to be operational by the last quarter of 2010.