Rivercrossing in Oxfordshire using the Grundodrill
Options Utility Services Ltd carry out under crossing of the river Cherwell using their recently accquired Grundodrill HDD rig.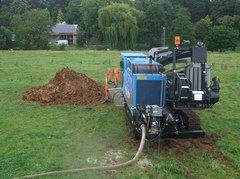 As part of Scottish & Southern's ongoing commitment to upgrade their existing distribution network, a section of overhead power line at Bletchingdon, Oxfordshire, was identified as needing replacement. This overhead cable passed over an area of leisure and recreation across the River Cherwell which was 30 metres in width. For safety reasons the client decided that this cable should be taken down and installed 6 Metres beneath the river bed.
TT-UK manufactures a wide range of Trenchless Technology equipment, for the most cost effective method of installing/replacing existing pipes/cables underground without associated traffic disruption and environmental impact.
This includes GRUNDOMAT soil displacement hammers in diameters 45-180mm; GRUNDORAM steel pipe-ramming hammers for the installation of steel pipes in diameters 200mm-4m; GRUNDOCRACK, GRUNDOBURST and GRUNDOTUGGER pneumatic/hydraulic pipe-cracking replacement systems for 110-1000mm pipes/mains; vertical piling hammers for 2-8in steel pile casings; GRUNDOWINCH trailer-mounted winches from 2-40 tonne; GRUNDOPIT, GRUNDOHIT, GRUNDODRILL, GRUNDOSTEER directional boring systems for the installation of pipes up to 600mm diameter. SLIP-FAST Pipe Pushing system which overcomes all associated problems with slip-lining new pipe into existing old or decaying pipes. NEW is the TT-UK/RSP and TT100 SUCTION EXCAVATORS which overcome digging damage to buried pipes/cables.
Contact:
TT UK LTD.
10 Windsor Road
Bedford MK 42 9SU
PH.: +44 (0)1234.342.566
FAX: +44 (0)1234.352.184
E-Mail: info@tt-uk.com
Internet: www.tt-uk.com

Contact
TT UK Ltd.
42 9SU Bedford MK
Phone:
+44 1234.342.566
Fax:
+44 1234.352.184
E-Mail:
info@tt-uk.com
Internet:
To website