Richard Robbins Receives Franklin Medal for TBM Development
On April 23, 2009, Richard J. Robbins, President and CEO of The Robbins Company from 1958 to 1993, will accept the Benjamin Franklin Medal for Engineering. He is following in a long line of greats-previous recipients include Albert Einstein, Thomas Edison, Stephen Hawking, and Jane Goodall.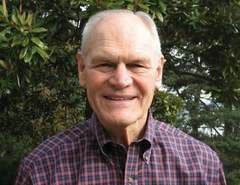 Robbins is being honored for a lifetime of innovation underground-developing TBMs for some of the largest tunneling projects in history. The Franklin Institute Awards have been ongoing for 185 years, and continue to recognize the greatest men and women in science, engineering and technology. A formal awards ceremony will take place in Philadelphia, PA, capping a week of educational presentations and activities. "When I reflect on the process of the award, and the fact that only one engineer is picked per year, I am truly honored and amazed," said Robbins.
Robbins' father, James S. Robbins, developed the first rock tunnel boring machine in 1952 and founded The Robbins Company, which is now a worldwide company with representation in over 25 countries. Richard Robbins has been responsible for leading or creating the company's subsequent innovations, from large diameter hard rock disc cutters to the first Double Shield TBM for Italy's Orichella Project in 1972.
"One of the most memorable projects I've worked on is the Channel Tunnel. We designed machines that successfully bored through water-bearing ground at 10 bar pressure—a much higher pressure than had ever been done before," said Robbins. The 39 km (24 mi) long Channel Tunnel was completed in 1991 following the use of five Robbins shielded TBMs placing precast concrete segments.
Another career highlight was a machine developed for the RER metro system in Paris, France in 1965. "We created the world's first below water, pressure bulkhead shielded machine using air pressure. This maintained the tunnel face under pressure while the rest of the tunnel remained at atmospheric pressure. All future slurry and EPB designs had their genesis in this machine."
Richard Robbins continues to work in the tunneling industry as a member of the Board of Directors of The Robbins Company and as a collaborator in development projects. He sees much work to be done in the future. "The next step will be to develop designs for a wide range of geologic conditions and for standardized elements that will shorten projects and reduce capital costs."
Contact:
The Robbins Company
Brianna Home
29100 Hall Street
Solon, OH 44139, USA
E-Mail: homeb@robbinstbm.com
Internet: www.robbinstbm.com