Richard Coffey appointed to the board at 6 Group
Executive search & leadership advisory company 6 Group has welcomed Richard Coffey, former managing director of Aquam Group and chief executive of Supply UK, onto the board of directors. Originally established in the energy and resources sector, 6 Group quickly developed a strong presence in water and utilities and has continued its portfolio expansion to include other essential industries including infrastructure and life sciences.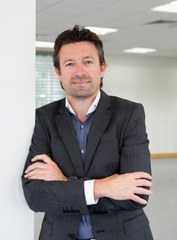 James Beazley, founder and managing director of 6 Group said, "I'm delighted to welcome Richard Coffey onboard as a director of 6 Group. His utilities and infrastructure experience and connections are invaluable to us, as is his time spent leading rapidly growing businesses.
"At 6 Group we are experts at identifying talent for senior leadership roles, but we go much further. We can help companies tackle their most intractable problems, firstly by guiding them through how to implement transformational change; then asking the difficult questions - how will they do it? Have they got the right organisational structure and people capability?"
He continued, "I see our approach as agile consultancy. We are not just about filling the job, we want to find out what's keeping the CEO up at night, and what is needed to get that peace of mind. Our consultants come from industry and each one is a specialist in the vertical they manage."
Richard Coffey led the expansion of Aquam's infrastructure business including several high-profile acquisitions in the UK. He was also chief executive and proprietor of Supply UK plant and tool hire business for 16 years, growing it from start-up into a multi-million-pound enterprise.
He said, "Joining 6 Group is a new direction for me, I'm excited to be part of this world class company and look forward to supporting its growth internationally."
Contact
6 Group
1 High Street
WA14 1PZ Altrincham, Cheshire
United Kingdom
Phone:
+44 161 926 4320
Internet:
To website