Rhino Linings Corporation Introduces Structural Linings for Trenchless Pipeline Repairs
PipeLiner 5000 11-70 PW and PipeLiner 5100 PW self-supporting polymer pipe liners make pipeline repairs quick and easy.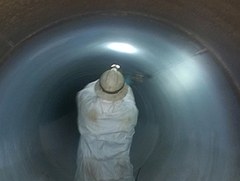 Rhino Linings Corporation is now offering PipeLiner 5000 11-70 PW and PipeLiner 5100 PW spray-applied polyurea-based lining systems
that can be used to repair aging and badly damaged pipe without the need to excavate and physically replace the pipeline.
Both PipeLiner 5000 11-70 PW and PipeLiner 5100 PW enable the trenchless repair of gas, oil, sewer and drinking water pipelines, saving time, money and reducing the impact on the environment. The complete trenchless repair system, which includes PipeLiner and the primer, Rhino® 1500, complies with NSF/ANSI-61 Potable Water Standard.
"This product was specifically formulated for a water pipeline repair project in Tacoma, Washington. We are now making the product available to everyone," said Pierre Gagnon, president and CEO of Rhino Linings Corporation. "There are hundreds of thousands of miles of aging pipeline in the United States alone that needs to be replaced. PipeLiner, our polyurea-based lining, will make those repairs faster and easier."
PipeLiner 5000 11-70 PW is formulated with high tensile strength, hardness and chemical resistance properties, and low water permeability. It not only lines the pipe, but provides structural support. In a field test of a lined section of pipe with a 1 inch by 6 inch section of the pipe removed, the liner withstood more than 200 psi without cracking.
PipeLiner 5100 PW is a structural polyurea-based system with high flexural strength properties and impressive tensile strength and modulus properties. When applied to a damaged or failing pipe system, PipeLiner 5100 PW lining acts as pipe within a pipe, quickly and cost-effectively preserving the structural integrity of the pipeline.
Both PipeLiner 5000 11-70 PW and PipeLiner 5100 PW can be sprayed in low temperatures and extremely humid conditions. They gel in 3-5 seconds and can be sprayed 350-400 mils thick, or almost 3/8 of an inch, in a single pass without stress cracking.
The Tacoma project repaired a one-half mile long section of 78-year-old unlined, leaking steel potable water pipeline. The 58-inch interior diameter pipeline was dewatered, patched, cleaned and coated in four weeks with minimal disturbance to the surrounding businesses and residences.
In a recent white paper on the project, Tacoma Water said they expect the newly created polymer pipe to serve its purpose for at least 50 years, even though the material itself will last longer.
For the Tacoma project, PipeLiner 5000 11-70 PW was spray applied using a robotic spray head designed by the contractor. The product can also be applied using high-pressure, 1:1 spray equipment or a Rhino Pro™ Cartridge Gun for touch ups and repairs after a pipe has been lined.
Contact
Rhino Linings Corporation
Jennifer Villalobos
9747 Businesspark Ave
CA 92131 San Diego
United States
Phone:
+1 (858)-450-0441 Ext: 6032
Internet:
To website