Remote Noise Logger Trial Pinpoints 115 Leaks
A technology trial involving installation of 295 Enigma3m remote correlating noise loggers in a water distribution network in the State of Johor, Malaysia, has successfully cut net night flow by a third. Yoo Sun Chan, general manager, Primayer Sdn Bhd, and Roger Ironmonger, managing director, Primayer explain how the work was carried out.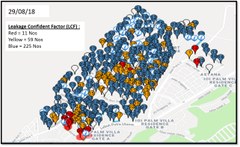 The state of Johor in southern Malaysia is better known for its beaches and rainforest than its water infrastructure, but water supply company Ranhill SAJ, a subsidiary of Ranhill Holdings Berhad, has set a challenging target to reduce non-revenue water (NRW) to 5% by 2025.
In December 2018 NRW – loss through leaks, bursts and unauthorised connections - was 24% and a number of actions was set in motion. Firstly, smart district metered areas (DMAs) of the water distribution network were implemented, with five DMAs involved in the first phase.
UK leakage technology specialist Primayer was approached by Ranhill through Mimtech, the company's authorised distributor for the southern region of Malaysia, and the Enigma3m advanced remote correlating noise loggers were deployed in a three-month trial throughout August, September and October 2018.
The aim of the first month of the project was to locate leaks from the correlations obtained from the Enigma3m loggers; during the second month leaks were repaired and further monitoring was carried out in the third month. The trial was carried on Bandar Putra B DMA in the state capital Johor Bahru, with a total pipeline length of 38.51km and some 5,052 connections under investigation.
The leakage rate was determined by measuring the net night flow (NNF) and subtracting legitimate night flow from the minimum night flow. Prior to installation of Enigma3m NNF was 30.99l/s and total daily flow rate was 6,200m3/day.
During the implementation of the smart DMA programme, a total of 295 Enigma3m units were installed by the team from Ranhill Water Services. The Enigma3m loggers were installed at hydrant valves, air release valves and on exposed fittings along the pipeline. The distance between sites for Enigma3m units varied depending on whether the pipes were metal or polyethylene.
The Enigma3m loggers installed in Johor use GPRS communications to transmit daily noise data from leaks to remotely locate leaks in water distribution networks, a major step-up from traditional techniques which include the use of metal rods to listen for leaks from above ground. They are deployed in underground chambers and require no outlay on surface level equipment.
Deployment of multiple loggers means correlation can be performed, locating leak positions more accurately. Leak location results can be viewed on PrimeWeb, Primayer's cloud-based data collection platform for water network pressure, flow and leak location monitoring.
PrimeWeb makes collection of real-time data possible, along with visual display of water network hydraulic data, leak alarms and correlated leak positions. Ranhill SAJ's on-the-ground leakage crews were able to locate incidents using Google Maps and, together with street-view visualisation of leak positions, manage incidents efficiently and effectively.
A total of 115 leaks were found and repaired in Bandar Putra B DMA during the Enigma3m trial. Small leaks at hydrant valves and communication pipes were also located. After three months of Enigma3m installation, NNF was reduced by over a third to 20.08 l/s. This gives a saving of 705m3/day water, with a total cost saving of approximately £3,050 (US$4,000) per month.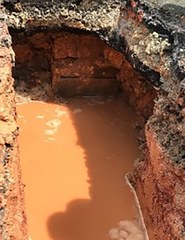 Zainudin Ngadiran, section head of the NRW control department of Ranhill SAJ Sdn Bhd, said, "A challenging target for leak reduction has been set by Ranhill SAJ and we are exploring technologies than can pinpoint leakage to help us reduce levels of non-revenue water rapidly. The trials with Primayer have shown that it is possible to deploy sensors that can precisely locate leaks, enabling our teams to carry out rapid repairs."
Ranhill SAJ serves a 3.1 million population and manages 22,175km of pipes over an area of approximately 19,000km2.
The company intends to expand implementation of the Smart DMA concept across Johor state and some of the state's most critical DMAs will be managed permanently with Enigma3m, depending on the age of infrastructure and site conditions. It is expected that more Enigma3m loggers will be required for the expanding programme.
Contact
Primayer
Catherine Harris
Digital Marketing Manager
Parklands Business Park, Denmead
PO7 6XP Hampshire
United Kingdom
Phone:
+44 23 9225 2228
E-Mail:
catherine.harris@primayer.com
Internet:
To website