RELINEEUROPE AG and KA-TE PMO AG agree on a sales cooperation
RELINEEUROPE AG and KA-TE PMO AG have signed a sales agreement to realise the potential offered by the growing international pipe rehabilitation markets together. RELINEEUROPE (Rohrbach/Germany) is a newly founded group, offering system technologies for trenchless pipe rehabilitation. KA-TE PMO AG (Freienbach/ Switzerland) is one of the leading providers of robot systems for trenchless pipe rehabilitation.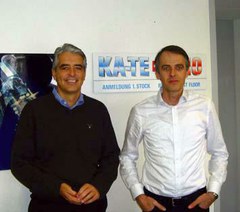 As a part of this cooperation RELINEEUROPE board member Christian Noll joined the management team of KA-TE PMO AG as from the 1st of January 2010, alongside Andreas Lieb.
With this cooperation KA-TE looks to establish itself more broadly internationally and improve the sales and service structures in various countries with respect to customer satisfaction. KA-TE looks to open up new markets abroad and improve its proximity to customers.
RELINEEUROPE strengthens its position as a supplier of advanced pipe rehabilitation technologies with this agreement. RELINEEUROPE provides companies that perform trenchless pipe rehabilitation with the full spectrum of rehabilitation technologies and services from one source.
Over the past few years, innovative UV-curing pipe liners have steadily expanded their market share, and the number of international companies that are active in this market and are investing the necessary equipment is growing. Modern, powerful robot systems, such as those provided by KA-TE, are necessary to be able to utilise this pipe liner technology successfully. Over the years, KA-TE robots have established themselves on the market for their high level of reliability and excellent performance. Together with this strong, experienced partner, RELINEEUROPE AG seeks to expand worldwide sales in the pipe rehabilitation sector.
Both companies see great synergy potential in the sales cooperation. In order to participate successfully in growing international markets, an internationally oriented sales and service strategy will be developed, focussing on proximity to the customer and markets. Sales, services and spare parts supply will be oriented to fulfil these needs.
Contact:

RELINEEUROPE Liner GmbH & Co. KG
Bernd Flossmann
Board of Directors RELINEEUROPE AG
Große Ahlmühle 31
D-76865 Rohrbach
E-Mail: info@relineeurope.com
Internet: www.relineeurope.com

KA-TE PMO AG
Andreas Lieb
Director KA-TE PMO AG
Schwerzistraße 4
CH-8807 Freienbach
E-Mail: info@kate-pmo.ch
Internet: www.kate-pmo.ch