Rehabilitation Under Time Pressure at the School Building in Rosenfeld
The best thing about school are the holidays. The students and teachers enjoy their free time and and finally peace and quiet returns to the school building. This is the best time to carry out rehabilitation measures without disrupting the day-to-day business. Geiger Kanaltechnik used this time frame to rehabilitate a total of 248 meters of house connection pipes at the school building in Rosenfeld, using the trenchless BRAWOLINER® method.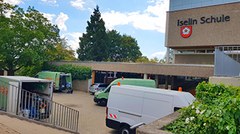 As usual, the pipe positions at the school building were examined before submitting the tender for the rehabilitation. However, the preliminary inspection had to be carried out from the main channel using a satellite camera, since the school routine was not to be disturbed during class time.
Following the inspection, the evaluation and planning was carried out by Gauss Ingenieurtechnik as well as the limited tender, which was won by Geiger Kanaltechnik, Stuttgart branch.
The preparatory site inspection of the executing company and the planner took place ten days before the scheduled rehabilitation. With the beginning of the holidays, the classrooms and teachers' rooms could be inspected for the first time without disturbing the school routine. This time, the pipes from DN 100 to DN 250 were inspected with the sliding camera from the inspection opening.
It quickly became clear that the data from the preliminary inspection could only be used to a limited extent for the actual execution. The rehabilitation would probably be much more complex than expected. Numerous bends and inlets came to light, which were previously not visible due to the TV access from the main sewer being interrupted again and again. The Geiger canal technology could not avoid organizing an additional milling robot to overcome these problems.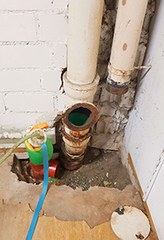 The difficult database should not be everything yet. Accessibility in the classrooms and teachers' rooms was often restricted by installations and furniture. Moving this furniture away also affected the short time frame of only ten working days for the pipe liner rehabilitation.. In this time the 16 long supports had to be completed with maximum precision.
Close coordination between the crew, the site manager and the planner had top priority. The rehabilitation concept was thus continuously adapted and supplemented, the liner inverted and the inlets opened. In the end, twelve pipes were lined with heat-curing and two with cold-curing house connection liners.
Due to the close cooperation with the planning engineering office and the high motivation of the rehabilitation team, the measure could be handed back to the school one day before the fixed completion date.
Contact
BRAWO® SYSTEMS Karl Otto Braun GmbH & Co. KG
Monika Lauchner
Marketing Officer
Blechhammerweg 13-17
67659 Kaiserslautern
Germany
Phone:
+49 631 20561 – 282
Fax:
+49 631 20561-101
E-Mail:
Monika.Lauchner@brawoliner.de
Internet:
To website