Rehabilitation of pipes with a non-circular cross-section
HOBAS NC Line - for pipes with a non-circular cross-section HOBAS NC Line are glass-reinforced polyester (GRhttp://www.unitracc.de/aktuelles/artikel/rehabilitation-of-pipes-with-a-non-circular-cross-section-en#fieldsetlegend-datesP) pipes manufactured using the filament winding process and designed for construction or rehabilitation of non-circular sewers. The special pipes can be made to fit inside the old sewer for rehabilitation or in virtually any shape required for new installations. HOBAS NC Line Pipes are consisting of polyester resin, quartz sand and glass.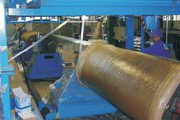 The NC Line Pipes are manufactured on a computer-controlled filament winding machine that can produce specially
shaped pipes with both circular and noncircular cross-sections up to a diameter of 4000 mm (
Figure 1
).
They are made of unsaturated polyester resin to DIN 16946 Part 2, at least type 1130, quartz sand as reinforcing material of grain size <1.0 mm, and glass rovings to DIN 61855 Parts 1 and 2.
During the winding process, all the NC Line Pipes are also fitted with a sleeve coupling at one end, which has an elastomeric sealing gasket to DIN 4060. After this process is completed, the spigot is milled. An adhesive joint is also available for special applications (
Figure 2
).
Abrasion performance

Abrasion performance was tested using the Darmstadt method. The pipes show high abrasion resistance over their entire service life.
The jetting resistance was analyzed by Siebert Engineering Consultants in Oststeinbeck (report of August 22, 1989 available on request).
Different pipe shapes and wall thicknesses can be supplied and are selected to cater for the load cases involved. Design and manufacture of the NC Line thus meets a wide range of customer specifications.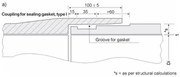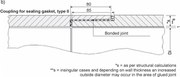 Structural calculations

The HOBAS NC Line Pipes are calculated taking the shape and installation conditions into account. Structural analysis takes into consideration the specifications and recommendations of the DWA code M 127 for rehabilitation and DWA A 127 for new installations. Tests are carried out by accredited third parties and building sites supervised by authorized experts or RAL quality association members.
Advantages
Custom shaped
Various lengths
Different joint options
Full load-bearing capacity
Proven jetting resistance
High hydraulic capacity
Certified abrasion resistance
Rapid construction progress
No corrosion
Installation possible in all weathers
Combinable with all Hobas pipe ranges
Convenient to work with

Key material characteristics
Short-term elastic modulus:11.000 N/mm2
Long-term elastic modulus:6.875 N/mm2
Short-term flexural strength:150 N/mm2
Long-term flexural strength:94 N/mm2
Abrasion after 200,000 load cycles:0.07 mm
Renovation of an egg shaped concrete pipe in Turin (Italy)

During 2003 contacts were established with one of the most important companies nationwide for water management, SMAT. This company is in charge of the sewer and water pipelines and purification plants and their choices are often taken as a kind of guideline by the other companies in the region.
Turin, Italy has a network of sewer pipelines which comes from the ancient time. It is estimated that more than 80 % of these pipelines are egg-shaped; even today, most of the new ones are made with egg-shaped concrete pipes.
During the contacts with the maintenance department of SMAT the possibilities of relining with HOBAS CC-GRP Pipe Systems was emphasised, for both circular and non-circular shapes. In the municipality of Turin and Venaria the rehabilitation of an egg-shaped pipeline of approx. 536 m was necessary. 136 m of that pipeline were close to collapse (
Figure 3
).

With the common effort of Hobas Organizations, the advantages of HOBAS NC Line were discussed and comprehensive information provided. The meeting was successful and, although NC Line relining technique is totally new for the Italian market, the customer was convinced.
The original idea of the relining sleeve was abandoned and the first 136 m of NC Line DN 614/1064 were ordered. The pipes have been delivered at the end of June 2004 and installed by a local contractor. Having no experience with these kind of pipes, the contractor was quite sceptical but was finally convinced of the HOBAS Pipe Systems. Additionally, Hobas provided the trolley required to transport the new pipes into the old pipeline (
Figure 4
).
Contact
HOBAS Rohre GmbH, Neubrandenburg (G)Uwe Kreitel
17034 NeubrandenburgGermany
Phone:
+49 (0) 395 45 28 150
Fax:
+49 (0) 395 4528100
E-Mail:
UKreitel@hobasrohre.de
Internet:
To website