Reducing water losses in the GCC countries by applying German welding standards in HDPE piping
Apr 23, 2013
Components and materials » Pipes
The sustainable supply of potable water in the six Gulf nations is at risk and the countries are trying to cover up by building additional desalination plants. But is there any other alternative? Yes, says SKZ the German Plastics Center and is introducing German welding standards to the region, to improve the sustainability of HDPE piping systems.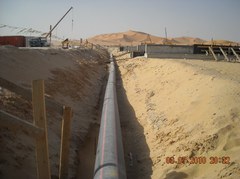 Water has always been a treasured commodity in the desert. Today the sustainable supply of potable water in the six Gulf nations is at risk. The demand of potable water is expected to increase drastically and the GCC countries are trying to cover up by building additional desalination plants, but up to 50 % of the potable water is wasted. Leaking piping systems are the main reason.
In order to improve this situation many end-users have shifted from conventional piping systems like ductile iron (DI), steel, glass-reinforced plastic (GRP) etc. to piping systems made of High Density Polyethylene (HDPE). This material is known for its advantages and in particular the high service life expectations in combination with very low maintenance costs which make this material a more favorable option.
But despite of the proven advantages many network owners are still facing high leakage rates in their piping systems. In fact the water infrastructure in the GCC countries is just a few decades old, but due to the lack of educated specialists the piping systems are not properly designed and installed. This results into heavy environmental impacts as well as in financial losses throughout the region.
SKZ the German Plastics Center is approaching this alarming situation by providing training, education, testing and certification, according to the renowned and internationally acknowledged German welding standards DVS and DVGW.
Reda Ashkar, SKZ Business Development Manager for the Middle East and North Africa says: "By implementing German standards we can ensure that state of the art technology is applied to achieve a sustainable and environmentally friendly water infrastructure, which will serve future generations."
Today over 500 specialists have been successfully trained at the SKZ Training Centre Middle East which was opened in August 2008. Training courses for welding of HDPE piping systems, as well as welding of polymeric sheets and membranes are offered.
In 2012 the local water authority Abu Dhabi Distribution Company (ADDC) sent over 40 engineers and welders to attend the GW 330 and GW 331 trainings. The training according to the German welding standards is nowadays well known in the Middle East countries and highly appreciated.
With regards to technical specification for HDPE piping systems SKZ Germany has been involved in consulting many governmental authorities in the GCC, including municipalities, water & gas network operators as well as national oil companies. Further the Gulf Plastics Pipe Academy (GPPA) has recently chosen SKZ Germany for the operation and management of a new testing laboratory for plastics located in Abu Dhabi which is expected to be brought online in the second quarter of 2013.
Contact
SKZ – German Plastics Center
Reda Ashkar
Friedrich-Bergius-Ring 22
97076 Würzburg
Germany
Phone:
+971 50 4561946
E-Mail:
ra@skz-me.com
Internet:
To website