Rebrand Readies Technology Company for Growth
A new word enters the water technology lexicon in March with a bold rebrand by Servelec Technologies and recent acquisition, leak detection specialist Primayer. The two companies are now united under one brand and one name: Ovarro.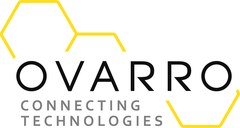 Water is a core sector for Ovarro, which also works with clients in the oil & gas, broadcast and transportation markets. The company helps organisations monitor, control and manage their assets and is anticipating considerable organic growth as utilities and municipalities seek greater analytics capability to drive multiple efficiencies in their operations.
Ovarro is inspired by the name of Roman scholar Marcus Terentius Varro who was first to propose the honeycomb conjecture. He stated that a regular hexagonal grid or honeycomb pattern is the best way to divide a surface into regions of equal area with the shortest total perimeter.
Charles Darwin later commented that, "The honeycomb is a masterpiece of engineering. It is absolutely perfect in economising labour and wax."
David Frost, chief executive of Ovarro said, "The water technology market is entering an extraordinarily vibrant phase, which we wanted to capture with the honeycomb theme of our rebrand. Exceptional efficiencies are sought by our customers and they will only be achieved through the collaborative efforts of a busy hive.
"We have some great technologies and unrivalled in-house expertise and in coming together and integrating our teams in R&D, operations and at the executive level, we can streamline our offer across industries and geographies. Having a single brand to wrap around this unique integrated offer is the most effective way of delivering to our customers."
Looking ahead, Frost said, "Tightening regulatory drivers mean water utilities and municipalities around the world are expected to do more for less. There are also considerable strains on our natural resources and water losses through leakage are a massive issue. Our combined solutions tackle that head on." 
About Ovarro
Ovarro is the new name for Servelec Technologies and Primayer. Ovarro's technology is used throughout the world to monitor, control and manage critical and national infrastructure. Our connected technology is always there, always on. Secure, proven, trusted; integrating seamlessly with our clients' assets. Collecting and communicating data from some of the most remote locations and harshest environments on the planet.