Ready to cross the Yangtze: world's largest tunnelling machine assembled and ready in 4 months in Shanghai.
At the end of April 2006, right on schedule, Herrenknecht AG handed over the first tunnelling machine with a diameter of 15.43m to the Chinese client "Shanghai Changjiang Tunnel & Bridge Construction Co., Ltd.". Together with the Chinese partner "Shanghai Tunnel Engineering Co., Ltd." (STEC) the Mixshield was assembled at the "STEC" location in Shanghai Wuhaogou (Pudong) in only 4 months.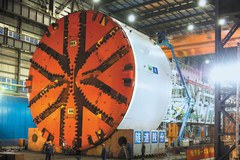 At the beginning of September 2006, this giant will begin its underground journey beneath the Yangtze River towards the river island of Changxing (also called Changjing). A second machine, for the production of a second parallel three-lane road tunnel of the "Changjiang Under River Tunnel Project" is currently being assembled at STEC.
The first Herrenknecht S-317 Mixshield was assembled within the contractually agreed hand-over time and is currently the world's largest tunnel boring machine (TBM), with a diameter of 15.43m. This giant TBM will construct one of two 7.2km, three-lane road tunnels (Changjiang Under River Tunnel Project), at depths of up to 65m beneath the Yangtze River in Shanghai-Pudong. These two tunnels are to be opened to traffic in April 2010 – when Shanghai hosts the World Expo.
The mega-city of Shanghai has been growing at an extremely rapid pace for more than a decade and is always seeking more space to expand. This search extends beyond the natural limits of the Yangtze River Delta. More than 20 million people currently live in the Greater Shanghai area and 500 new vehicles are registered every day. The new tunnels will connect the Changxing river island, with a population of approximately 600 000, to the road traffic network.
A bridge construction will also provide a traffic link between Changxing island and the large island of Chongming opposite. Investments in the two tunnel projects and the bridge amount to approx. 1.5 billion USD.
Safe under extreme pressure.

Herrenknecht AG was awarded this strategically important contract for the construction of the two Mixshields (slurry tunnelling shields) 13 months ago, in spring 2005. Not only is this the first direct Chinese order for Herrenknecht's most advanced tunnelling technology, it is also the first time worldwide that two machines with a excavation diameter of this size have been built.
The two tunnel projects, with a length of approx. 7.2km, will be driven with these Herrenknecht tunnelling shields, at depths of up to 65m.  During tunnelling, the machines will face water pressures of up to 6.5bar, which can only be mastered safely using Mixshield technology.
To allow skilled personnel to change tools at the cutting wheel in these extreme conditions without compromising high safety standards, the six cutting wheel arms are accessible from within the shield under atmospheric pressure. This reduces to a minimum the need for diving operations to change excavating tools.
Assembling these two machines at the premises of Herrenknecht's partner STEC in Shanghai Pudong, some 6 km from the planned construction site, was a logistical and organisational masterpiece. This Herrenknecht tunnelling shield, with a total length of  125m and a total weight of 2300t, has been specially designed and developed for this project over the past 13 months.
The main hydraulic and electromechanical components (thrust cylinders, main drive etc.), the process and control technology and the cutting wheels of the two TBMs were produced by Herrenknecht engineers and specialist workers at Herrenknecht headquarters in Schwanau (Southern Germany). The heaviest components arrived from Germany at Shanghai's new port punctually at New Year 2005/2006.
The main drive (cutterhead power: 3500kW), weighing a total of 170t, had to be offloaded with a specially provided floating crane. With the help of the steel construction and assembly experts from Herrenknecht's Chinese partner and customer  "Shanghai Tunnel Engineering Co., Ltd." (STEC), the first machine (Herrenknecht S-317) was handed over to the customer right on schedule, after just 4 months construction time.
Reference project sends signal.
Now, after acceptance by the customer, the machine is being dismantled at STEC as quickly as possible, under the supervision of Herrenknecht, to prepare it for action at the tunnel construction site some 6km away. The Herrenknecht S-317 will commence tunnelling for the first time on 8 September 2006, in the launch shaft at a depth of 26m.
The second tunnel, with a distance between centrelines of 23m, will be driven with the Herrenknecht S-318 Mixshield which is scheduled to begin tunnelling beneath this huge river on 8 December 2006. The two machines will install a total of 7500 lining segment rings beneath the Yangtze in two tunnels, each with a length of 7.5km. Each ring is made up of 11 segments, each weighing up to 16t.
By the time the two tunnels have been completed, 2.7 million cubic metres of earth will have been excavated. Just transporting this away every day poses a logistical challenge and will cause a lot of construction site traffic. A total of 1500 people will be employed on this large construction site in the next few years.
The first Herrenknecht tunnelling shield is expected to arrive at the target shaft on the river island of Changxing at the end of 2008. This mega project in China is of enormous strategic importance to Herrenknecht. It will send an important signal in Asia as a reference project in large-scale mechanised tunnel construction.
Contact:
Herrenknecht AG
Mr. Achim Kühn
Head of Corporate Communication + Marketing
Schlehenweg 2
D-77963 Schwanau-Allmannsweier
Tel.:+ 49 7824-302-540
Fax: + 49 7824-302-473
E-mail: PR@herrenknecht.com
Web: http://www.herrenknecht.com