Qenos' Alkadyne® PE100 Pipe Resin Produced with Univation PRODIGY™ Bimodal HDPE Technology Receives European and ISO Certifications
"The collaboration between Qenos and Univation maximizes the value of complementary products and technologies to help meet growing demands across the entire HDPE pipe value chain"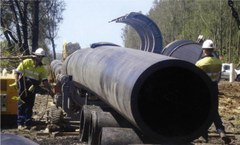 Affirming their strong commitment to international benchmarking and product quality, Qenos and Univation Technologies announced today that Qenos' Alkadyne® PE100 pipe resin, produced with Univation PRODIGY™ Bimodal high-density polyethylene (HDPE) technology, received the globally recognized International Organization for Standardization (ISO) certifications.
The ISO certification resulted from a close collaboration between Qenos, an experienced world-class producer of PE100 resins, and Univation Technologies, the exclusive licensor of UNIPOL™ Polyethylene (PE) Process Technology and supplier of proprietary PRODIGY™ Bimodal Catalyst for the production of bimodal HDPE resin in a single reactor. Exova Group Plc, an accredited testing laboratory, verified that Alkadyne®
HDF145B PE100 Pipe Resin produced by Qenos via UNIPOL™ PE Process Technology and PRODIGY™ Catalyst meets ISO 4437:2014 and ISO 4427:2014 testing and performance standards. This PE100 pipe resin also complies with European standards EN 1555-1:2010 and EN 12201- 1:2011 as well as comparable Australian certifications. "The collaboration between Qenos and Univation maximizes the value of complementary products and technologies to help meet growing demands across the entire HDPE pipe value chain," said Stephen Bell, Vice President Commercial ChemChina and Qenos.
"The added validation of ISO certification – a key benchmark of quality in a global economy – highlights our commitment to continually delivering outstanding performance against the advancing requirements on pipe products. It also demonstrates the effectiveness of our highly productive development partnership with Univation Technologies, a relationship that continues to add value for the pipe market."
The Alkadyne® PE100 grade range delivers outstanding performance enabling pipe networks produced from Alkadyne® to achieve exceptional longevity in a wide variety of demanding applications, including water conservation and delivery, irrigation, waste management, mining and gas.
Qenos commenced producing Alkadyne® HDF145B in 2008, manufacturing more than 70,000 tonnes of this high-performance PE100 pipe resin.
The grade has been converted into pipes up to two meters in diameter with a wall thickness of up to 120mm. These pipes have been used in all end market applications, utilizing the full-range of joining and installation techniques. Alkadyne® HDF145B has demonstrated superior performance with the capability to produce thicker walled pipes and deliver extrusion performance benefits not readily achieved with competitive resins.
The Australian pipe standard has always aligned with ISO and this certification represents international recognition of the grade's compliance to global product and installation standards and the capability of the Univation PRODIGY™ technology to make a world-class PE100.
Univation's UNIPOL™ PE Process Technology, enabled with PRODIGY™ Bimodal Catalysts, is the only technology that can produce capitaladvantaged bimodal polyethylene resins in a single reactor for both new plant builds as well as upgrades of existing plants. The Australian pipe industry, pipe extruders and utilities have used PRODIGY™ Catalyst-based PE100 pipe in challenging applications, including horizontal directional drilling and large/thick wall pipes.
"We are very pleased to see ISO certification of Qenos' PE100 bimodal HDPE resin," said Steve Stanley, President of Univation Technologies. "As a leading innovator in PE technologies and catalysts, we appreciate the importance of compliance with recognized standards and practices. Our goal is to help our customers meet or exceed these standards and stand out in the marketplace. We continue to invest in our technologies and catalysts to provide solutions that offer highly competitive levels of performance and quality, supported by outstanding service.
"Available to both a low-cost catalyst retrofit of an existing facility or a newbuild PE facility, Univation's proprietary bimodal HDPE technology offers a minimum capital advantage of $20 million USD versus competitive process alternatives, while yielding some of the highest-performing bimodal HDPE products in the market."
Contact
Qenos Pty Ltd.
David Francis
471 Kororoit Creek Road
3018 Altona, Victoria
Australia
Phone:
+61 3 9258 7333
Fax:
+61 3 9258 7451
E-Mail:
david.francis@qenos.com
Internet:
To website