QBC Achieves 2,500,000 Man Hours without Loss Time Incidents (LTI) at North Sewerage Treatment Pumping Station & Pipeline
Aug 04, 2011
Construction site, general
Qatar Building Company (QBC) receives official certification for achieving over 2.5 million Man Hours without Loss Time Incidents (LTI) for Doha North Sewerage Treatment & Associated Works TSE3 Pumping Station and Mains.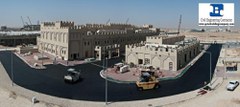 The Doha North Sewerage Treatment and Associated works contract is a joint venture with Public Works Authority (ASHGHAL) and several organizations; it is valued at 1.78 billion QR and has a capacity of 243,000m3/day of treated water. The project encompasses Doha's northern area, Umm Salal, Gharafa, Semeisma, and Lusail. Upon completion, it is set to serve over 900,000 people.
QBC was awarded the building of the sewage pumping station, connecting pipelines, and mains by the main contractor Marubeni Corporation. With a team of over 130 members working since 2009, it is quite an achievement in Health & Safety for QBC to maintain zero LTI.
Martin Schneider, Civil Engineer and Project Director at the site, confirms: "This certification is an admirable accomplishment that demonstrates QBC's ongoing commitment to safe working environments".
The four stages of the massive project are scheduled for completion by 2012 in the hopes that the success earned by QBC will continue.