Pure Progress: Pentair and Shining Hope for Communities Expand Access to Safe Water in Kibera
SHOFCO Recognized by Conrad N. Hilton Foundation with 2018 Hilton Humanitarian Prize.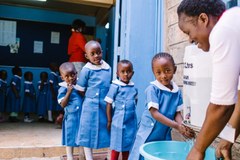 Global water treatment company Pentair plc, the Pentair Foundation, and Shining Hope for Communities (SHOFCO) recently completed a multi-year endeavor to expand access to safe drinking water in Kibera, an impoverished settlement in Nairobi, Kenya, with the implementation of water filtration technology and a cutting-edge aerial piping system that delivers clean drinking water to residents.
The effort was the result of a multi-year collaboration in which Pentair and the Pentair Foundation partnered with SHOFCO to implement the Kibera School for Girls' Clean Water Access Project pilot program with two objectives: to create a more sustainable, fairly priced supply of clean water in Kibera, and to help reduce the number of contracted waterborne illnesses within the area.
The revenues from the project support the water system and help fund the Kibera School for Girls, thereby creating an integrated link between clean water, the girls' education and community development.
"When we first visited Kibera several years ago, it became clear that treating the water to make it safe to drink was only the first step," said Phil Rolchigo, Ph.D., Pentair Chief Technology Officer. "The larger challenge was how to sustainably deliver the treated water to residents as the water distribution system was not secure, leaving the potential for contamination as well as vandalism. Our solution was to literally reach for the sky, and we designed and installed a custom aerial piping system."
Working collaboratively with SHOFCO, Pentair engineers designed, built and installed a state-of the-art water filtration system to treat water on site, doubling the volume of water that the system delivered to the community. The aerial piping system, the first of its kind to be constructed in Kenya, distributes the clean water away from groundwater contamination while reducing the risk of tampering. The custom designed aerial system consists of overhead pipes supported by wooden poles that connect to 10 safe water distribution kiosks throughout Kibera.
"The lack of clean water disproportionately affects women and girls, who must care for those who fall ill due to unsafe water and lack of sanitation," said Ed Gachuna, SHOFCO Chief Financial Officer. "Access to clean, safe water is key to empowering the women of Kibera, and to helping the larger community build a better future."
Project Recognized with Global Humanitarian Award
SHOFCO was recently recognized as the 2018 Hilton Humanitarian Prize recipient for its local approach to transforming lives in Kenyan impoverished settlements by providing critical services that disrupt the survival model, including the sustainable delivery of clean water in Kibera. SHOFCO's programs also include health care, education and economic empowerment for women and girls.
With an estimated one million residents within an area of less than 2.0 square miles, smaller than New York's Central Park, Kibera is one of the most densely populated places on the planet. Up until recently, there was no running water in Kibera, and Kibera residents paid often paid ten times what Nairobi city residents paid.
With the completion of the Clean Water Access Project pilot program, SHOFCO and the Center for Disease Control (CDC) are partnering to research waterborne diseases in Kibera. Initial findings indicate a reduction in reports of waterborne disease in neighboring health clinics since SHOFCO's water program launched.
ABOUT SHOFCO
SHOFCO (Shining Hope for Communities) is a grassroots movement that catalyzes large-scale transformation in urban slums by providing critical services for all, community advocacy platforms, and education and leadership development for women and girls. Growing up in Kibera, one of the largest slums in Africa, SHOFCO's founder Kennedy Odede experienced extreme poverty, violence, lack of opportunity, and deep gender inequality. Now, SHOFCO is focused on building solutions to urban poverty by addressing those core obstacles. For more information, please visit www.shofco.org. Kennedy's story can be viewed here.
ABOUT PENTAIR AND THE PENTAIR FOUNDATION
At Pentair, we believe the health of our world depends on reliable access to clean water. We deliver a comprehensive range of smart, sustainable water solutions to homes, business and industry around the world. Our industry leading and proven portfolio of solutions enables our customers to access clean, safe water, reduce water consumption, and recover and reuse it. Whether it's improving, moving or helping people enjoy water, we help manage the world's most precious resource.
Contact
Pentair Communications
Rebecca Osborn
5500 Wayzata Blvd, Suite 600
MN 55416-1261 Minneapolis
United States
Phone:
+1 763-656-5589
E-Mail:
rebecca.osborn@pentair.com
Internet:
To website