Public to have new opportunity for consultation on proposed reservoir - Extended consultation period made possible by amended legislation
Changes to legislation will result in a further period of consultation for people interested in commenting on Thames Water's proposed reservoir near Abingdon, Oxfordshire.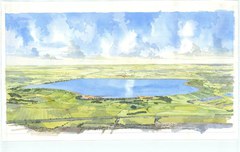 The changes to the current Water Industry Act, which came into effect in April, mean all water companies have to undertake full public consultation on their draft Water Resources Management Plans before these are submitted to the Government for approval. The plans outline how companies will meet customer demand for their entire region for the next 25 years. They cover both demand management measures (reducing leakage and increasing metering and water efficiency) and options for supplying more water where this is needed.
Major projects, such as the proposed Oxfordshire reservoir (known as the
Upper Thames Major Resource Development
, or UTMRD) will be considered in the light of what water resources may be needed for the whole Thames Water supply area. Consideration will also be given to options for meeting needs in the wider region.
The move means that the period available for public consultation will be extended by two years, allowing more people to have their say on the proposals. It also means that any applications for work to begin will not be lodged until 2009 at the earliest.
Thames Water's Director of External Affairs, Richard Aylard, today outlined what this would mean for the UTMRD planning process:
"Predicted population growth, climate change and increased water consumption all mean that a major new water resource will be required for our region, by about 2020. A reservoir near Abingdon remains our preferred option. This is part of a package of measures, which includes our huge programme of reducing leakage and encouraging water efficiency.
"We have always put public consultation at the heart of our plans for the proposed reservoir and this remains our top priority. Our draft water resource plan will be published in March 2008, but we are happy to receive comments at any time.
"We are pleased that so many people and organisations have already submitted detailed comments about the proposals, during
Stage 1
of our original consultation. These are extremely valuable to us and will all be included as part of the submissions we make to the Government as part of our Water Resources Management Plan. Everyone who took part in the earlier consultation process will now have the opportunity to make further comments if they wish. We also hope that people who have not yet taken the opportunity to comment on the plans will feel they can do so now. "
A local panel will be established to ensure that an ongoing dialogue with the community is maintained. This was agreed at the workshops held for local people in February. The membership of the panel is being decided independently, to ensure a balanced representation of the local area and interests.
The reports from Stage 2 of the local consultation will be released as an interim report later this year.
Further information:
Thames Water Uitlities
Nicola Savage
Tel: +44 (0)118 373 8921
Email: nicola.savage@thameswater.co.uk
Web: www.thameswater.co.uk