£4M tunnelling scheme planned at Mancunian Way
Work to stabilise Mancunian Way, after a sinkhole opened up and damaged a sewer, has been found to be more complicated than originally thought and a £4 million tunnelling project is now being proposed.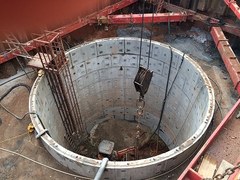 Engineers have established that ground conditions are too unstable to attempt repairs from one side of the carriageway. In order to avoid closing both sides of Mancunian Way they are now planning to bypass a 130-metre stretch of the sewer by tunnelling a new pipe beneath the road. The complex scheme could take until January to complete, before Mancunian Way can be completely reopened.
Tony Griffiths, United Utilities wastewater network manager, explained: "Our damaged sewer is 6 foot wide, more than 40 foot deep, and serves thousands of properties in the city centre. Unfortunately, the geological conditions in the area are very unstable and dangerous. It would have been impossible to carry out a traditional repair and keep the road open throughout. The tunnel scheme we're proposing is major engineering - the type of work that would normally take 12 months to plan – but we are fast-tracking it to get both sides of the road reopened as quickly as possible. Our teams will be working 7 days a week, and 24 hours a day from Monday to Friday."
Workers have been on site since mid-August after a 40-foot sinkhole opened up in the eastbound carriageway following heavy rain, washing away the road and a 100-year old sewer beneath. United Utilities has since been working with Manchester City Council to stabilise the immediate area and assess the extent of the damage to the sewer and the road structure.
Cllr Kate Chappell, Manchester City Council's executive member for the environment, said: "Engineers working for United Utilities have discovered that the situation beneath the Mancunian Way is more challenging than anyone had originally anticipated. This is clearly a huge piece of engineering work, of a nature that would normally require months of planning, and will sadly mean that the Mancunian Way will remain partially closed for longer.
"This is clearly very disappointing news, but we will continue working closely with United Utilities to do everything in our power to fully reopen the road as quickly as possible. We are also making a series of highways alterations elsewhere in the city centre, and bringing other planned changes forward, as a result of the ongoing work, to make sure congestion in and around the city centre is kept to a minimum while this work continues. This includes re-opening lanes of traffic on Portland Street, reopening Princess Street to two way traffic, and making improvements to junctions along London Road."
United Utilities has already built one concrete shaft in order to stabilise the ground around the sinkhole. The tunnelling project would involve the construction of two further deep shafts, one at the top of Manor Street and the other further along the eastbound carriageway of Mancunian Way. A tunnel would then be used to link up the shafts with a new concrete pipe. The old stretch of sewer would be stabilised and abandoned. The existing contraflow system will continue for the duration of the tunnelling work.
An interview with Cllr Kate Chappell of Manchester City Council and Tony Griffiths of United Utilities is on YouTube.
Contact
United Utilities Group PLC
Haweswater House, Lingley Mere Business Park, Lingley Green Avenue,
WA5 3LP Great Sankey, Warrington
United Kingdom
Phone:
+44 (0)1925 237 000
Fax:
+44 (0)845 0702058
Internet:
To website