ProMinent at IFAT 2018: Vakuum Metering System For Chlorine Gas DULCO®vaq
ProMinent presents an particularly affordable approach to water treatment on Stand 451/550 in hall A3 at IFAT in Munich, from 14 to 18 May 2018: Chlorine gas disinfection with DULCO®Vaq. The new vacuum metering system for chlorine gas combines maximum safety with maximum efficiency.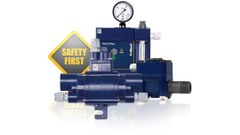 DULCO®Vaq is designed for disinfection of drinking water, swimming pool water, waste water and cooling water and ensure impeccable, germfree water quality.
The systems are available in performance classes from 0 to 200 kg/h and are compiled as a complete solution from high-grade, tried-and-tested standard components. This increases the system's durability, while at the same time reducing both operating and maintenance costs.
Safe and efficient
DULCO®Vaq is designed as a full vacuum system and therefore offers maximum safety for users. The vacuum generated in the injector opens the vacuum metering controller fitted on the chlorine gas tank and the chlorine gas enters the water to be treated. Adjustment valves control the metering volume and flow meters precisely indicate the chlorine gas flow. A large number of individual configurations is provided for by additional components, such as motorised control valves, injectors or vacuum switches.
High efficient metering
Exact control electronics and measuring technology ensure efficient chlorine gas metering during both manual and automatic operation. Uninterrupted disinfection is guaranteed at all times – not least thanks to empty container detection and automatic switchover.
Custom solutions with maximum safety
The main components are supplemented by matching ProMinent safety equipment. ProMinent specialists design the system individually to your specific requirements, taking into account the applicable technical rules for hazardous substances as well as local regulations.The solution from ProMinent complies with all important safety standards. Optimally matched components guarantee operational reliability of the system.
About ProMinent GmbH
For more than 55 years, the ProMinent Group has been a manufacturer of components and systems in the field of fluid metering as well as a reliable solution partner for water treatment. Based on innovative products, comprehensive expertise in process technology and distinct application orientation, practical solutions are developed for customer-specific requirements. The Group is headquartered in Heidelberg, Germany. About 2,500 employees in 51 own sales, production and service companies as well as further representations guarantee service and availability in around 100 countries. In addition to the treatment of public drinking and waste water, the key sectors include chemical industry, industrial water treatment, food and beverage industry, treatment of swimming pool water, oil and gas industry and process industry.